The Pain of Preparation
Long Reach Wrestlers Strike the County
Cutting and gaining pounds in order to make weight. Hydration checks. Pins and forfeits and matches. Wrestling is a sport with many unique aspects that strongly influence the lives of the students who participate.
Long Reach's team finished the season with four losses and sixteen wins; however, this record does not determine the strength and determination of the team members.
No matter the result of the match, wrestlers take extreme pride in their sport. 
Garrett Cioffi, one of the senior captains of the team this year, explains, "You play basketball, you play baseball, you play football, but you don't play wrestling; you wrestle. To me, that's everything." 
The other senior captain, Sam Levine, is a three-sport varsity athlete. Compared to his other sports, cross country and lacrosse, wrestling requires a "lot more mental preparation. It takes a lot of visualization and planning to be able to get on the mat and execute a plan."
Another unique feature of wrestling is the use of weight classes. Wrestlers fall into weight classes, which is intended to allow for fair matches where each participant has an equal chance at winning. Examples of weight class include 106, the lowest, and 285, the highest.
In order to participate in a match, a wrestler must make weight. If a wrestler does not make weight, he or she will be unable to participate in a meet, resulting in a forfeit point for the team.
Junior Theo Lazarou is currently researching the effects of cutting weight in Long Reach's Independent Research program. 
As a three-year wrestler himself, he has experienced the negative implications personally. He states, "[Cutting weight] makes me mentally and physically tired and confused, and it adds an extra element of stress. It leads to some wrestlers actually leaving the sport."
Cioffi has his own experiences to offer. He describes his own experience during the season, saying, "I was always tired, sleeping constantly…it just tore me down mentally."
One may wonder why the wrestlers continue to participate in a sport that involves such rigorous preparation. 
Levine claims, "Wrestling is a sport that really pushes you unlike any other…[It] instills values of self-discipline, hard work, and respect, and the lessons learned on the mat stick with you for life." 
Cioffi has his own reasons for wrestling. He explains, "In that practice room, we work hard and bond together as a family. I've made friends that will probably be my friends for a lifetime."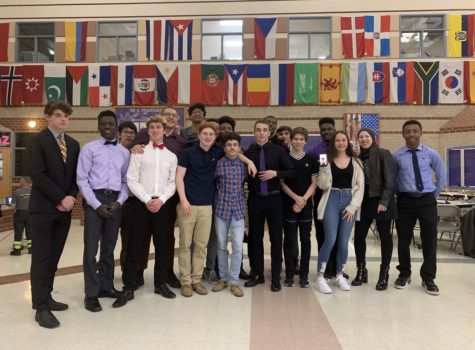 In Lazarou's case, he says, "[Wrestling] has increased my self-confidence, opened up new friendship opportunities, allowed me to be physically and mentally fit, and helped me with time management." 
Every sport has mental and physical challenges that the athletes must overcome, and in the case of wrestling, many members of the Long Reach team seem to believe that participating in the team outweighs the negativity associated with cutting weight. 
After all, Cioffi states, "If you want to succeed, especially at a varsity level, it's just something that you have to do."