Only The Beginning
Freshman Aidan West, committed to North Carolina State University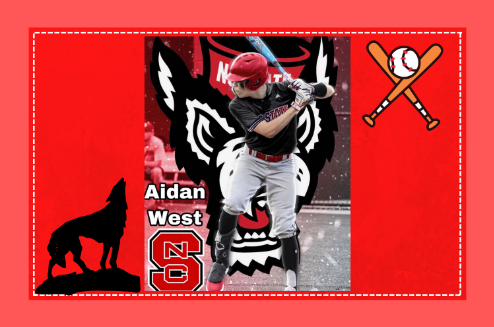 "It definitely feels good to know that I have already made my decision. It feels like a weight being lifted off my shoulders," says Freshman at Long Reach High School, Aidan West, who recently announced his verbal commitment to North Carolina State University.
Back in November of 2021, student-athlete at Long Reach West issued a statement declaring that he would continue his athletic career at North Carolina State for baseball. West decided to commit to the school with the 10 other offers that he faced.
West announced his decision in an Instagram post: "I am extremely blessed and honored to announce that I have committed to North Carolina State University." 
As a Division I school, NC State recruits some of the strongest high-school athletes from around the country. West will bring to the team 10 years of valuable experience in club baseball, where he has played on several teams such as the HCYP Raiders and US National Elite teams.
Of course, this was no easy task. It took hard work, dedication, and overcoming obstacles to get West on the path he is headed now. 
"I think the most difficult obstacle I've been faced with was my heel being hurt for my whole 13th season, and not being able to play," mentions West. "It took a lot of time and physical therapy to overcome the injury, and I would say it set me back a little."
This was one of the hardest times for West, as he was forced on the sidelines in order to prevent any further injury. Although he was bound off of the playing field, West took this time to himself to further think about his athletic career. There was no doubt in his mind however, on whether or not to continue playing.
Now, West is back on the field as he is fully healed from his injury. "After all of the physical therapy I've done, I no longer have the heel injury, and I am fully healthy right now."
Despite all of the offers that poured in for West, the question as to where he wanted to attend was an easy one. 
"NC State has always been one of my dream schools," he reveals. "I always knew it was where I wanted to go, as my grandfather played football and baseball for them."
West had toured colleges along the East Coast and had many other offers lined up. "Other than NC State, I talked with Vanderbilt, South Carolina, Wake Forest, Virginia Tech, Maryland, Kentucky, Cincinnati, Georgia Tech, Virginia and Alabama," he states.
But when West stepped onto the campus in North Carolina, it was an instant click. "The deciding moment for me was how the coaching staff treated me, as well as the facility and the type of atmosphere at North Carolina State."
West continues to train for baseball, as well as guaranteeing a spot on the Long Reach Baseball Team for the current season. "In 5 years from now, I see myself enjoying NC State playing baseball," he expressed. "And, further down the road, in 10 years I see myself being a professional baseball player. 
West will graduate from Long Reach High School in 2025 and will continue to condition and play for Long Reach's Baseball team. This is only the beginning of his journey.