The Man on the Moon is Back
Kid Cudi. Man On The Moon III: The Chosen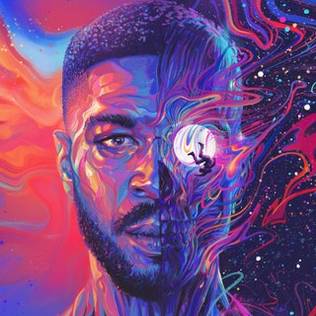 This is it, this is what Kid Cudi fans have been waiting for. Nearing the end of 2020, the third and final installment of the Man on the Moon trilogy was released, and it did not disappoint.
It's been over 10 years since the last Man on the Moon album from Kid Cudi. The first in the series, Man on the Moon: The End of Day, came out in September of 2009 and became one of the decade's defining albums.
Cudi used his music to convey very personal and very real emotions about depression, addiction, loneliness and suicidal thoughts at a time when the greatest, most successful rappers were rapping about cars and success. The following year saw the release of Man on the Moon II: The Legend of Mr. Rager, another great album through the eyes of Kid Cudi's supporters, but not as well received critically. 
After the second MOTM, Kid Cudi started experimenting with other sounds. He started venturing into rock and grunge with albums like WZRD in 2012 and Speedin' Bullet 2 Heaven in 2015, two of his more polarizing albums. 
Kid Cudi is known for his very unique, spacey, almost intergalactic sound from the first MOTM's, which he came back to on later projects like Passion, Pain & Demon Slayin'. Then in 2018 he released the duo project Kids See Ghosts, with Kanye West, which received very high praise, and is considered some Kid Cudi and Kanye West's best work to date. However, Cudi's solo work of late has been pretty hit or miss, and people were not sure what to expect going into this album.
That being said, this album was definitely the best he's released in years. Cudi's sound has very much come full circle, taking a lot of notes from Travis Scott, an artist who has openly talked about how inspirational Kid Cudi was to him. There is a strong presence of neo-psychedelia and cloud rap on the entire project, including some featured production from the likes of Tame Impala on the track "Dive."
Kid Cudi covers a wide range of topics on the project, from his spiritual journey to the death of his father on the song "Elsie's Baby Boy (flashback)," a real highlight for me. The track opens with a dialogue sampled from the final scene of the 1986 coming-of-age movie Stand By Me, a movie that I had never seen before, but didn't need to in order to feel the emotion Cudi was trying to convey. Then the instantly recognizable "House of the Rising Suns" guitars kick in and the song takes shape as a reflection on his loneliness as a child. 
Finally the outro, a beautiful moment on the record: a tranquil instrumental where you might find yourself wanting to close your eyes and just listen. 
Another high point on the album is the song "Lovin' Me" featuring Phoebe Bridgers, a song that goes into Cudi's spirituality and celebrates his new found self-love. Kid Cudi's struggle with mental health has always been present in his music, and in this song he's finally realizing that he cannot grow as a person without loving himself. 
This song is more in line with Kid Cudi's staple sound, but with the addition of Phoebe Bridgers. She adds so much to the song and is the album's best feature in my opinion. Her vocals compliment Cudi's perfectly and they even sing together on the outro.
One track later, on "The Pale Moonlight," Cudi raps over spacey production from collaborators Ratatat and longtime friend Dot Da Genius. Cudi shows his ability to ride on the beat effortlessly, and creates a truly intergalactic chorus using a series of layered hums. This song features some of the more carefree lyrics on the entire project, and highlights a different side of Kid Cudi's personality. 
Kid Cudi has struggled all his life with serious depression, loneliness, and suicidal thoughts. He's even said that the first time he was ever really happy and excited for a project was in 2018 with Kids See Ghosts. So whether you liked the songs or not, you can at least appreciate that upon the release of this album, he ended his hour long Zane Lowe interview with the words "I'm happy, you know?"