Enola Holmes 2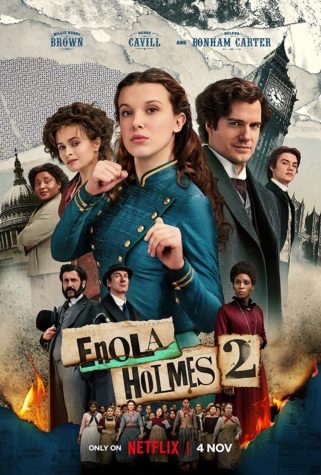 Director Harry Bradbeer has brought an adrenaline-filled sequel to the big screen in Enola Holmes 2. Audiences see familiar faces this time around but have been introduced to new characters as well.
Enola Holmes, played by Millie Bobby Brown, jumps back into London with her own detective business in the footsteps of her older brother, the already acclaimed Sherlock Holmes. However, she faces many challenges that almost cause her to lock up and return home. Just as Enola is questioning her doubts in the agency, a young girl approaches her to investigate the disappearance of her sister. More dangerous than expected, Enola is thrown into a new world full of everything from beautiful Victorian architecture to London's sinister factories. As the mystery is becoming too big to solve, she has to turn to her brother Sherlock, played by Henry Cavill, and old friend Tewkwsbury, Louis Partridge, to help her crack the case.
Filled with numerous plot twists, the film keeps audiences engaged with each and every scene. Like the first story, it provides a unique balance between action, humor, and even romance. With Enola narrating most of the film, the camera follows the exciting journey she embarks on throughout the entirety of the plot. "Enola was going to have to grow up, and she was going to have to learn to stand on her own two feet as a detective, in her own right, so we set her that goal," Director Bradbeer says.
Additionally, each actor in the film did an excellent job of portraying their individual character. Even with new actors added, the exciting tone of the movie was shown in an exciting and intriguing manner. Louis Partridge states "He's stepping up in the world, and he's got more on his shoulders." His character has developed in lots of ways, as other characters have in the film.
The movie Enola Holmes 2 is a great film that most audiences who enjoyed the first movie will love. The plot, relationships, and characters throughout the story will transport you straight into the Victorian London shown on the screen.