What it takes to make music a way of life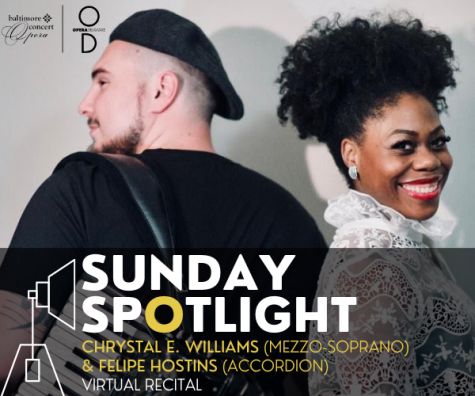 On an early Monday morning, students from both in-person and virtual learning of LRHS Choir took time off their usual schedule to attend a Google meet call with members of the Baltimore Concert Choir (BCC). The students were joined by Julia Cooke, the BCC artistic director; Chrystal Williams, a mezzo soprano singer; and Felipe Hostins, an accordion player and composer. During the call, students were invited to ask questions to the musicians and watch one of Williams and Hostins' virtual recitals titled Forrópera, a joint performance between the wife-husband duo combining opera with Brazilian folk music. 
The first part of the meet featured a brief introduction, with Williams speaking on how she came to be an opera singer. Recalling her school days, Williams illustrated a particular memory that inspired her to chase the career: "What caught my interest was one of my chorus teacher's bodies was vibrating … I was sitting in the back while he was playing piano and his back was vibrating and that was fascinating for me."
Following the introduction, the virtual recital played from a video recording of a live performance. Williams and Holis, both dressed in black, stood in front of a dark background lit by a stage light. The first song was the famous opera song Bizet's Carmen Medley. Williams sung the piece brilliantly with Hostin's elegant accordion accompaniment. 
At the conclusion of the first performance, the musicians were asked about their day to day work and how their occupations have been impacted by the pandemic. As live performances around the world have been shut down, like many others, Williams and Hostins had to find different ways to bring their art to audiences. As shown in their recorded performance, Williams and Hostins have moved toward digital mediums for their work. 
"We have been learning how to make videos and skills we didn't have before," Hostins reflected. "We have been learning a lot of different skills."
"There is a lot of flexibility and ability to do different things," Williams added, "[its] kind of like living in the moment." 
Williams also noted additional freedom to explore other genres and styles: "for singers there are a lot of opportunities for risk taking … for a time where a lot of us who didn't want to sing and didn't know what to sing … I felt it was a time where I could sing what I want." 
The final performance video was George Gershwin's "Summertime" from Porgy and Bess. Much like in the first piece, William's graceful voice astutely delivered the iconic song with an equally enjoyable accordion play by Hostins.
The meet was concluded with a series of questions, during which one student requested advice for forging a career in singing. Williams, in response, indicated possible challenges for singers in a field that is swayed by opinion.
"I would definitely say that this field is subjective, and when you perform, sing, and share your art, make sure you know who you are." She noted, "You are your art, we singers we are our art, so when you go out there, you know your art."
When thinking back on her start as a musician, Williams recalled her own challenges and mistakes, encouraging the Long Reach Choir members to follow their own motives.
"You are not just a singer, not just a throat, not just these two chords, you are an artist, you are a full being," Williams imparted, "… find what moves you."