Underdogs of the Law
April 19, 2023
In only its first year of existence, the Long Reach Mock Trial teams defeated the county champions in the Howard County Mock Trial tournament! This notable feat shows the power and will of Long Reach, even as rookies. However, the journey to success for this team is truly inspiring, as told primarily by the co-captains of the team: Catherine Harris (senior co-captain) and Isabella Roberts (junior co-captain).
Mock Trial is a competition team that falls under the social studies department (similar to Debate and Speech and Model UN); in Mock Trial, the teams will receive their (imaginary) criminal/civil case in the middle of November, and after studying the case and the procedures of the courtroom and law, each team must select members to play witnesses and attorneys on the case for both prosecution and defense. Once it is time for the competition, each Howard County team faces off against each other, and the goal is to win their case and play each role convincingly (attorneys, witnesses, defendants, etc.). If a team wins counties, they go on to the circuit tournaments, then regionals, states, etc.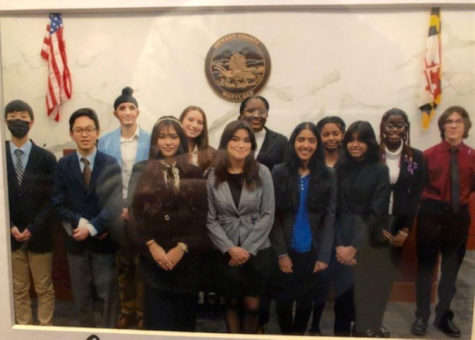 What sparked the interest in forming a Mock Trial team at Long Reach was the co-captains interest in law and politics in general. Roberts recalls how she was "already close with Ms. Jody Zepp [one of the Government and Psychology teachers at Long Reach], and we discussed the possibility of forming a Mock Trial team along with Catherine Harris. I was already interested in a career in law, so going through the competition season only made me love it even more." 
Harris agreed with Roberts, as she also was close with Ms. Zepp and talked about forming the team. Harris also talked about how she was a part of the Law and the Citizen class, "we did mock trials and debates in the class." Since both of them had expressed interest in forming the team, Ms. Zepp created it and they were made the first co-captains of it. 
This year's members include Isabella Roberts (next year's senior captain), Catherine Harris, Halle Octaviano (next year's junior captain), Michael Vitlin, Haley Murdock, Madhavi Patel, Danielle Fonmedig, Vaishnavi Bhattaram, Noah Rim, Shivani Gurung, Mark Stromer (next year witness coach), Leah Boka, Josiah Kim, and Timiya Nyoa.
Although Mock Trial is based around the law and courtrooms, anybody can join regardless of their interest in the law, because the members of the team gain many essential life skills. Harris lists some of the skills their members have gained, "It improves your debating, acting/improvisation, and public speaking skills. You learn how to think on your feet as well." Roberts adds to this as she talks about "how much it helps with critical and analytical thinking skills. [You learn how to] read between the lines and come up with how you can interpret the narrative." 
Despite the rather serious nature of Mock Trial, the environment within the team is quite the opposite. Roberts describes how it is a "super close team. […] It turned from a team to close friends. Everyone came to every single meet even if they weren't competing, which shows support." 
Harris also talks about some of her favorite memories on the team, which include "our first prosecution win, which was our first win ever. We also started posting on social media. We even won the award for best team spirit and camaraderie at the Howard County Mock Trial Banquet."
This is not to say that the team did not face its own fair share of struggles though. Again, this is the first year that the team has even existed, so Harris looks back on some of the team's troubles at the beginning of the season, which include learning "how to operate in the court [where to look in the courtroom, when to object, how to properly object, etc.], as each judge has different expectations. All of the witnesses and attorneys did well, but at the moment, it is terrifying." Nervousness in and of itself proved to be a challenge too, however, the team used these nerves to their advantage. 
Harris also recollects how their "first competition against River Hill, and we went into it nervous. We came out of it feeling good, but seeking to improve; it was motivating. We then went up against Centennial (fourth-seeded school) and Mount Hebron (first-seeded school – was undefeated at the time). We were really nervous! We were even more shocked to win against them, but we never got cocky, instead, we proved that it was not a fluke."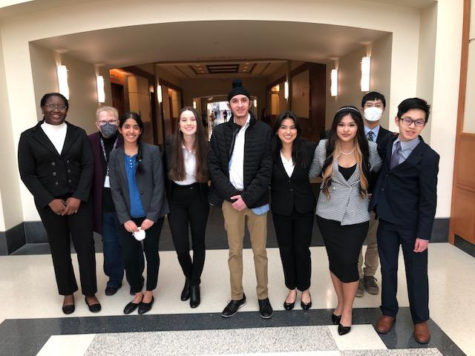 Every team knew the details of the case fairly well, but the more experienced teams knew the courtroom procedures better. However, instead of letting nerves overtake them, the Mock Trial team decided to closely observe their opponents and adapt, and this is how they overcame their nervousness. The general atmosphere at these competitions was friendly, competitive, and spirited, which also helped the team's nerves lessen.
The Mock Trial team became the co-county champions (along with River Hill), and earned a spot in the Circuits championship. They faced off against Severna High School and were ultimately defeated. This defeat has not discouraged the team though, as they are already looking toward the future season. Since Roberts will be the senior co-captain next year, for next year, she "wants to have the best team possible and assign people according to their skill set. [This year] people were kind of thrust into roles. Auditions for the team would help to see where people should fit in. There are people who are better as witnesses, attorneys, etc. I want to see the same team spirit and camaraderie [as this year]." Even though she is graduating, Harris also has hopes for next year's team, as she "wants them to be proud of and feel good about what they are doing next year. [I am] proud of how far they got, but I'd be proud regardless."
The team's sponsor and coach, Ms. Zepp, describes how she "could not be prouder of this inaugural team and its commitment and skills in going all the way to Circuits! Purple Lightning Proud! And we want to thank our principal, Mr. Eldridge, for his support and encouragement from the very beginning… I am deeply grateful for the leadership and talent of my co-captains, Cate Harris and Isabella Roberts, without whom we would not be the Team we have ultimately become. Catherine Harris, as our senior member, has indeed and, in fact, begun our legacy here at Long Reach High School."
Next year's Mock Trial case is a bit different though, as it will be a civil case instead of a criminal one, so it may prove to be a bit trickier. Regardless, both Harris and Roberts describe the team as extremely fun, despite it being nerve-wracking at first, and the skills you gain from it can be applied throughout one's lifetime. Long Reach Mock Trial is on a roll, case closed!