The 2023 Long Reach Talent Show
May 8, 2023
"Lights, camera, action!" Dancers, singers, actors, you name it, Long Reach has tons of students who've got some hidden talents. Who knew the school could contain such dazzling performers?
The Long Reach Talent Show is a show of talented students held at Long Reach High on March 24th, featuring performers who attend the school.
This Long Reach Talent show was held on Friday March 24th, 2023. It was a pretty even mix between actors, musicians, dancers, and singers. Anyone could go with a friend, a group of people, or go solo on stage to give the audience a show that they cannot forget.
Guitarists jammed out on stage, actors played out commercial scenes, dancers transforming songs into a visual performance, and singers sang their hearts out. At the end, the audience and judges separately vote on who they thought was the best performers, but the point is to express oneself onstage.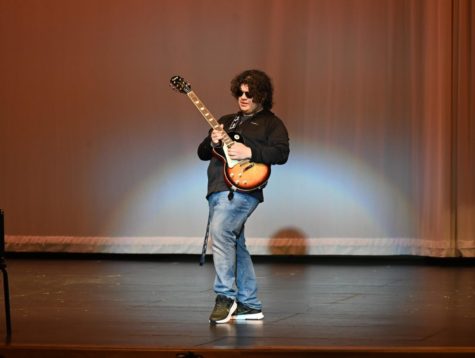 The entire show was to give future artists a taste of what it is like to be on stage, give them a chance to express themselves to an audience, and show people what one they are capable of. Though the classes at Long Reach feature many different classes that give people the opportunity to learn subjects not usually seen in other schools, the Talent Show gives everyone at the school a chance at freedom of showing one's talents without any pre-made scripts or walls. It is called a "Talent Show" for a reason!
The main goal of hosting the show was to raise money for a charity called Grassroots, a crisis prevention service that helps raise homeless families, families, substance abuse in youth, adults, and behavioral health. There was even a checkpoint for donations where students from the school ran around the audience with donation buckets, a well-played plan that worked phenomenally as most people had put some money into the buckets while one of the show hosts shouted "Donate to Grassroots!" explaining what the charity is all about.
Whether it was singing with someone else, singing solo, or singing to someone else's instrument playing, everyone captured the audience's attention. The song came on, background lights shifted color, and the performers walked on stage in flashy outfits. Many wore things that sparkled to gear everyone's eyes towards them and have full focus on what they are saying, to hear out the language of music. Performers going solo stood at the very front-middle of the stage, looking out to the audience. At first, they usually seem a bit nervous, but they all end up really zoning into their words within the first few seconds. Each singer seemed to perform longer than they actually did, slowing down time.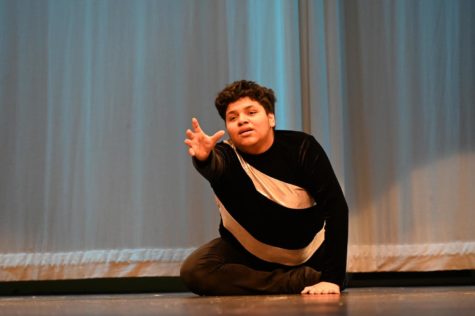 Dancers performed moves like rolling, spinning in place, kicking, and many others. There were dancers performing as if they were in the late 1980's to match the vibe of the song, while others wore flashy or other styles of clothing to match their own song that they chose. They all performed without flaw, twisting and turning right on beat. It all seemed professional, like they have been dancing for 100 plus times. Do not even get started on the actors. Each performance seemed like it was happening on TV, like they were on set and made a thousand takes to perfect this one performance. They all featured some sort of comedy, while others had a mix between acting, singing, and dancing like a musical. They all gave the audience a good chuckle, and delivered their lines so well that one could easily believe they were not  acting at all.
Do not forget the musicians. Most were electric guitarists, while there was one on piano. The guitarists all went completely solo, but that did not stop them from performing the perfect performance. Every show they provided showed to be their best. The pianist duo'd with someone else singing, both having good chemistry when bouncing off one another; they were completely in sync.
Other than the performers, the show hosts provided a ton of entertainment. It seemed like they were part of the entire show; no, they were. They delivered comical acting in between performances that related to the previous and next performers' songs, acting as a well-accomplished transition between the first and last entertainers. They also served well for bloopers; each time there was a delay or mishap from one of the performers on stage they would simply shout "Donate to Grassroots!" If it works, it works. It became a bit for the entire talent show, earning a chuckle from the audience every time it was said.
By the end, the winners were voted for by the audience and judges. Three people earned their place out of the three announced, but so did everyone else with the show they put on. They all deserve a good shout-out, they all did so well. It was all for a good cause too. Congratulations to everyone who decided to perform, it takes a lot of guts!
Citations
Grassroots Crisis Intervention Center. (March 30th, 2023). Grassroots Crisis Intervention Center. Retrieved April 3, 2023 from https://www.grassrootscrisis.org/.
Long Reach Boosters Club. (March 24, 2023 – 11:33pm). [Digital Image]. Long Reach Has Talent Show Spring 2023. Facebook, Retrieved April 17, 2023 from https://www.facebook.com/longreachboosters/posts/pfbid03kN5BKQj5TDefz1rtVZ5fTBBhjwA39UPPd8GctyMgFvY7B4RihH4rY4EqE7xPwikl.