Lightning Relearns How to Strike
Sports Return to Long Reach
With fall sports being played in March at the height of a pandemic, it's clear that sports look a little different this year than in years past, but the fighting spirit of Long Reach is alive and well. 
Many players did not expect a chance at a season this year. Payton Holmes, senior captain of the girls varsity soccer team, says, "When they kept pushing the season back and we were eventually into 2021, I had given up hope, so when we were told we're definitely having a season, I was very excited." 
This sentiment was shared with many Long Reach athletes. Senior Skylar Kohler, a captain of the field hockey team, agrees, "The girls and I never wanted to get our hopes up about having a season, so I think everyone was really shocked when we found out that we would have a season a month before tryouts started."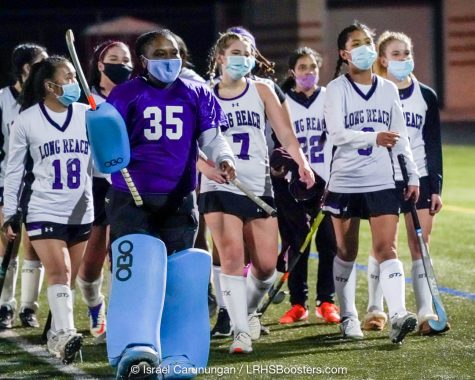 Senior Henry Sharon, captain of the boys varsity soccer team, adds, "I felt blessed to even have a chance to play for the school one last time. I honestly didn't expect this to happen; I was prepared for no season at all." 
Of course, there have been some major changes to the student athlete lifestyle as a result of COVID-19. 
While masks are not required during game time for players on the field, they must be worn at all other times. In addition, social distancing is enforced on the sidelines. 
Freshman Lucy Paulhamus on the girls' soccer team explains, "Wearing a mask for the entire practice is really difficult. Especially as the weather gets warmer, that is going to be a challenge." 
Junior Mia Rubio on the volleyball team expressed a different concern in terms of this season's changes: the lack of an audience. All players are provided with two passes for family members to come to the game, so the support from the sidelines is smaller than usual.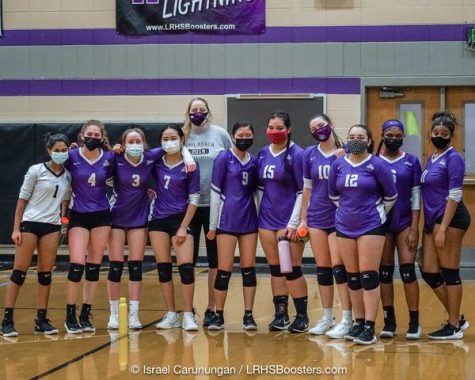 In addition, both girls soccer and field hockey did not have enough athletes to form a JV team this season. Kohler says, "We only have eleven girls, which is how many we have on the field at once, so we have no subs. We definitely have to keep our energy up during games, which can be difficult." 
Sharon noted "we didn't have much of a preseason to prepare" since most teams only had a week of practice time between tryouts and the first game of the season. Usually, fall sports train for the entire summer to prepare and condition for the season and get to know new players who will be trying out.
Despite these unprecedented changes and unique challenges, these athletes' love for their sports and teams have endured. In fact, many players voiced a new appreciation for their sport after months of quarantine and isolation. 
For Freshman Carly Vincent, "Soccer is a stress reliever. Last year, when everything was shut down, I was under an almost unbearable amount of stress…it was my teammates that I was missing."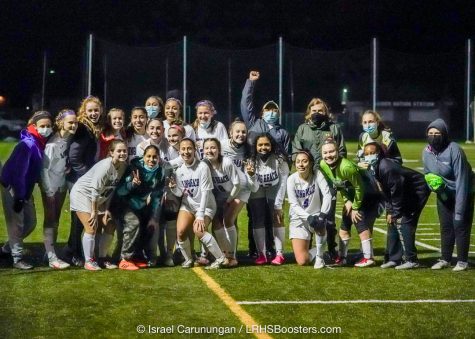 Holmes emphasized the importance of the team as well, stating, "We have a really strong group of girls this year, and we have become a family despite not being in school together and only seeing each other on the field." 
Kohler explains, "Going back to field hockey after being at home doing online school for 
so long has definitely helped my mental health. Being active outside and seeing my teammates everyday is so refreshing after having Google meets and staring at my screen all day."
Grace Drasin, a sophomore on girls varsity soccer, asserts, "I think it's safe to say for the majority of people that isolation has negatively impacted our motivation, so having this outlet to bounce back in brings that motivation, which gets me up and going everyday." 
Long Reach athletes have hit the ground running, with two victories for the volleyball team, one for the boys soccer team, two for the girls soccer team, and one for field hockey. 
Holmes warns the other teams in the county, "I think we have a really good chance at being one of the best teams in the county this year, and other schools should watch out instead of just thinking playing us will be an easy win."
Sharon agrees, saying, "I think my team will perform above standards. We've always been known to be an easy win, but this year the mentality has changed for the better, and we showed that with a huge overtime win against the defending state champs, Wilde Lake." 
Win or loss, none of Long Reach's student athletes can deny that the return of sports to this school has boosted morale in a massive way.