Film in the Time of a Pandemic
"Cinema is a matter of what's in the frame and what's out." – Martin Scorsese
The film industry and cinematography can be traced back to the end of 19th century America. From its origin, it has continued to expand and produce a multitude of major motion-pictures. U.S. cinema in particular, most specifically Hollywood, has had a sweeping global effect and has dominated the film industry, providing entertainment and influencing our culture throughout the years. However, this has all come to a halt at the hands of our current pandemic, the coronavirus.
Although the production of films and series has begun to return, it does not go without extreme caution. Shooting locations are restricted, and crew members are divided into pods and have little association with each other, limiting the function of wardrobe and lighting departments. Cast and crew members are tested and divided into zones, hindering communication, direction, and even disrupting the formation of relationships and bonds between actors off-screen. Though these changes may not seem major, they are sure to translate on-screen and in the final products. 
Many Hollywood writers, executives, and producers believe that the world of entertainment will shift dramatically, as well as what Americans watch and when they will watch it. Will movies be set during the time of the pandemic, or will directors choose to set films in the past, as producer Lucas Foster predicted in The Washington Post?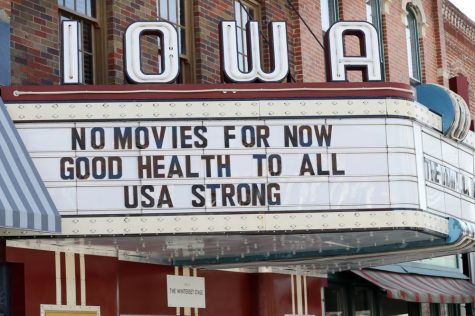 Creating and developing a film requires hundreds of people; whether it is for soundtracks, outfits, or editing/ post production, each member is valuable to the process. In order to effectively create a movie, members of crews and departments must communicate and work together. However, extras and low paid workers have lately had little interest in being a part of this process, as they claim that the low payment is not worth risking their health, and many don't want to be held accountable for the spread of the virus. 
Actors as well have had little opportunity for exposure during this time, as they don't want to risk the health of others. A-list actors such as Tom Hanks and Dwayne "The Rock" Johnson have both tested positive for the virus. Even English actor Robert Pattinson had contracted it, halting the production and filming on the Warner Bros.' much anticipated film, The Batman.
The quality of movies will inevitably be cut back as well. Restrictions on location and proximity put a strain on directors and producers, and therefore a strain on their execution and vision of the film. Foster, producer for the upcoming Children of the Corn, is one of the first to make a movie during the outbreak, but that included many drawbacks. 
Foster claimed for The Washington Post, "I had to figure out how to do a crowd with no more than a few people at the same time. And with very specific camera angles…In the end, I'd get the scene I needed but it looked different than it would have before the pandemic." Some crowds in his film even had to be computer generated. 
All of these safety provisions have been said to add up in cost; money that should've gone into the movie went into safeguards instead, resulting in a lower-end product. Many scenes between actors have had to be scrapped altogether and replaced with alternates, and romantic scenes may be hard to come by.
And once these films are finished, how will the public access them? Traditionally, studios release their films to movie theaters prior to public access. To stay in business, various movie theater locations have implemented different policies. Some states like Iowa and South Carolina have limited seating and sales to 50% capacity, others have suggested staggered seating, and some have even thought to implement more drastic measures like plastic screens. 
However, some studios are cutting out movie theaters altogether and are opting to premier movies directly in viewers' homes. Disney's Mulan, which had been rescheduled to release several times over the course of the pandemic, eventually premiered on Disney+ for a price of $29.99. 
While some films may be following a similar trend, other movies have just been pushed back altogether. However, if studios find success by cutting out the movie theater, the theater-going process America has grown up with since the start of the 20th century might become archaic. 
Overall, it is safe to say that the pandemic has significantly altered the traditions of the film industry, therefore impacting the entertainment and culture of this generation, and ignoring cinematic practices that have been used for decades.