Many Recognitions, Many Reasons to be Humble
Students would agree that being taught by this award-winning teacher is an award in and of itself.
Ms. Zepp is in her sixteenth year of teaching and has won multiple awards, including the 2015 Maryland Teacher of the Year, 2015 Class Nobel Educator of the Year, and the 2014-2015 Washington Post Agnes Myer Outstanding Teacher of the Year. 
Ms. Zepp comes from a family of educators. She asserted that her father "remains a powerful model of excellence with instruction and critical thinking." She added, "He is an example of how teachers ought to have as an imperative a synthesis of both head and heart, of passion and logic, and of affective and cognitive domains." 
It is clear that Ms. Zepp's passion for teaching is evident, not only to her students, but also to the people who work with her. Mr. Satterfield, who teaches ESOL English 9 as well as English 11 AP, has known Ms. Zepp for five years. He commented, "I don't think you'd find a stronger advocate for students of all levels."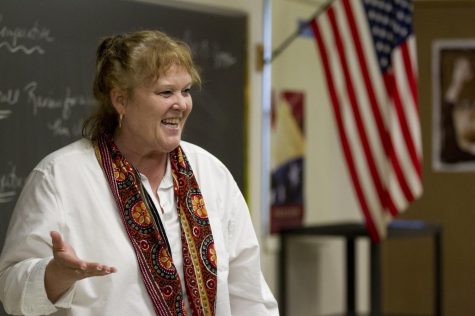 Mr. Satterfield also stated that, "Ms. Zepp has a deep spiritual belief that teaching is as much a calling as it is a profession, and that is something special." 
Besides this, Mr. Satterfield said that the best advice he has gotten from Ms. Zepp was to "be authentic." 
Mr. Lawrence, who teaches U.S. History as well as World History, commented, "One of the best things about working with [Ms. Zepp] is that she really loves teaching and making sure her students do their best academically." He added, "It really rubs off on you as a teacher and pushes you to do your best." 
Ms. Zepp teaches multiple social studies classes including Government, Comparative Government, and Psychology, which are all AP classes. Her other classes are International Studies, Law and the Citizen, Political Science, American Government, and Women's Studies. In addition to the classes she teaches, she also coaches the Speech and Debate Team. 
After talking to her former students, she hopes to launch an ethics class and a speech class in the fall at Long Reach. 
Ms. Zepp has spread knowledge and wisdom to her students, but it did not come from thin air. She mentioned that her graduate professor gave her a piece of advice that she utilizes to this day. The advice was to "yield to results." She explained that if half or more of the class failed a test, the issue is not the students. The issue more likely would stem from the testing material she used, or her own instruction. Although it seems harsh, it is clear that she implements that idea into her classroom and her teaching. 
Junior Matthew Franklin currently has Ms. Zepp for AP Government and AP Psychology. He stated that his favorite part about Ms. Zepp is her personality. He went on to say that one moment she could be going over important information, but during the last five minutes of class, he could talk to her easily.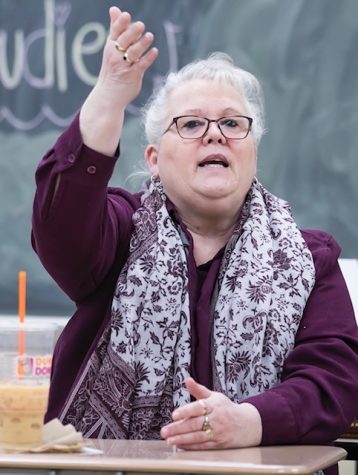 Moreover, Franklin asserted, "Ms. Zepp teaches in a very focused and fast paced class" but is "able to retain growth at exponential rates." He explained that while Ms. Zepp goes quickly, the students are able to keep up with her, which adds to the learning experience. 
Alana Smith, a senior who had Ms. Zepp for Government and AP Psychology, admitted that being in Ms. Zepp's class was stressful due to the coursework; however, Smith described the class as informative and that she learned what she was supposed to learn. 
Hannah Menasria, a junior, has Ms. Zepp for AP Psychology. Menasria stated, "Ms. Zepp has a very loving but chaotic energy. She's amazing at getting every student involved in class and really makes class fun that we learn so much without [realizing] it." 
Additionally, Menasria described Ms. Zepp as one of the wisest people she has met. "I don't ask her for much advice, but I try to model myself after her and listen to the small tidbits and lessons she tells our class."
And perhaps the wisest advice that we could all learn from is what Franklin identified as the best advice he received from Ms. Zepp: "You could work all you want, but until you actually care about what you're reading or writing, you'll never remember or learn it."
Indeed, just as teachers like Ms. Zepp care about us, it is our responsibility to care about our own learning (and maybe appreciate all of those who help us along the way!).