Manic Episodes
Halsey's Third Debut Album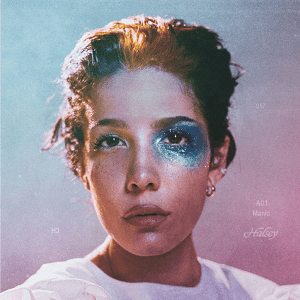 Halsey's new album Manic was released January 17th, 2020 through Capitol Records. 95% of music lovers have enjoyed this album with its mixture of country, alternative, and indie. 
Written from her own perspective, Halsey has made a great impact on the pop/indie industry with an interest in "female energy" that explains the influence of artists written off as angry women.
"I never typically enjoyed her music until I listened to the album," Janae Dunham, a senior stated. "It's fire!"
Halsey's "Without Me" has been No. 1 on Billboard for weeks now, peaking at No. 2 now, which has gained her significant recognition and promotion for her third debut album.
With producing this album, Halsey uses more of a rageful narrative to attract listeners and expresses her feelings for men and how her past has been affected, but not ultimately saying this. Halsey succeeds in letting her fans know that after a breakup or failed love, there is always growth – whether it feels comfortable or not.
Rooted in the explanation of deep pain, Halsey's single "Without Me" contains lyrics such as "Found you when your heart was broken, I filled your cup until it overflowed," and "Does it ever get lonely? Thinking you could live without me." These harsh lyrics stem from Halsey and her troubled past not only as an artist, but as a woman. Having shared these emotions and feelings through her music is viewed as a great coping mechanism for her.

"I can relate to some of the lyrics in 'Without Me,'" Myah Martin, a senior, expressed. "And I know there are a lot of other girls who can, so I'm so happy she made this album."
Halsey is a genius at flipping lonely self-awareness into a sense of strength and independence, and has been doing this for quite some time with hits from her past album titled Badlands. Her music has always illuminated her strength over the years, considering her life has been a roller coaster of emotions, phases, and heartbreak. 
"All women don't express themselves in the manner Halsey does, but if she doesn't, then who will?" Martin states.
Halsey's collaborations on Manic include Benny Blanco and Greg Kurstin, some great hitmakers who've helped Halsey create this album and produce it. Halsey has many hooks that make her music catchy and stretched ballads that have helped the energy and her voice flow through the beat of the music effortlessly.
So far, with 3 million Adjusted Albums sold worldwide, Manic has been the first album of 2020 to be certified RIAA Platinum with 5.5 billion global streams and a world tour!
"She has accomplished so much and I loved the message she portrayed to her fans," Dunham explained. "A true pop star."
 There are a lot of questions that Halsey wonders about society, life, and most importantly, love. They will remain unanswered, and until she figures out why she always fails at these things, she'll continue to release revolutionary music for fans who wonder the same things.