An Octave Higher
Walking into the room where Ms. Pompei's desk is, there is a little poster hung on the file cabinet with a magnet. It says, "Music teachers are an octave higher than others." 
Ms. Pompei is a music teacher at Long Reach who has been teaching since Long Reach High School was established in 1996. 
She teaches a number of chorus classes including Chorus, Concert Choir/Concert Choir GT and Chamber Choir GT (Madrigals), along with Piano 1 and 2. 
In addition, her teaching repertoire includes teaching "10 years in Prince George's County Public Schools (PGCPS) and one year in a private school in Bel Air Prep School (Hollywood), CA."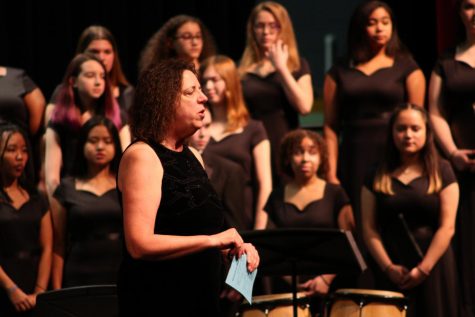 Ms. Pompei asserted that her favorite part about teaching is the students. She added, "Some of my students are with me for four years, so I have the opportunity to watch them grow and mature as singers, musicians, and young adults." 
Junior Michelle Caternor has had Ms. Pompei since her freshman year and said that she enjoys how the class never stresses her out. She also said that Ms. Pompei is understanding and she lets her students know that she cares by allowing them to take care of things outside of the class if they need to. For example, if they were late to class because they were talking to another teacher, she would understand and not get upset. 
Marissa Scharf, a senior, has been working with Ms. Pompei in the winter and spring musicals since her freshman year. Scharf stated that she loves how Ms. Pompei takes time to ask her students about life outside of class. Asking questions like "How was your weekend?" and "What did you do over the break?" demonstrates how she genuinely cares about her students. 
Scharf added that her favorite part about the class, besides the music, is how Ms. Pompei "takes time to ensure that her classroom is a safe, supportive environment." 
Caternor said that she learned to be more confident from working with Ms. Pompei. She elaborated, "When I first started, I was super shy and didn't open up, but I've become a lot more open and confident in myself."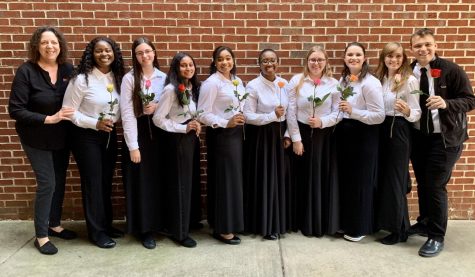 Senior Tyra Pritchett stated that her favorite part about the class is that it does not feel forced. "She [Ms. Pompei] teaches with such a passion that it's hard to become disinterested." Pritchett also mentioned that Ms. Pompei's love for music is the best part about working with her. 
Ms. Jaksec, the principal's secretary, described Ms. Pompei as a "mother hen." She elaborated that Ms. Pompei takes care of the music department and checks on others. 
Ms. Jaksec also commented on how Ms. Pompei is a hard worker because she stays late, even on nights when there is no concert. This is another example of her love and passion for music. Ms. Pompei says herself that she loves music and she loves to teach music. "I would teach for no pay, but don't tell anyone because I do need to have a place to live and food to eat," she joked. 
Along with great taste in music, Ms. Pompei also gives amazing advice. Caternor said that Ms. Pompei always tells her that she can do anything as long as she tries. 
Pritchett added that the most useful advice she has gotten is that she is going to face difficult situations in life, but she needs to learn not to take [them] to heart. 
Scharf received the best advice at her choir audition. She said that Ms. Pompei told her, "The people who are kind, hardworking, and eager to learn are usually preferred over the people who already know everything and have an attitude about it." Scharf elaborated that even though the advice applied to music, she was able to apply it to other areas of her life.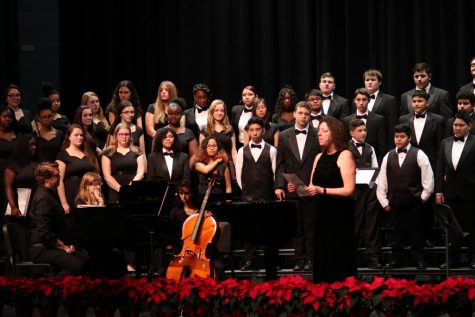 While Pompei's students appreciate her, so do her coworkers. During her time at Long Reach, she has made lots of friends here. 
Ms. Jaksec said that she and Ms. Pompei are not just coworkers, but that they are true friends. She stated that her favorite part about working with Ms. Pompei is that she has a big heart. She explained that Ms. Pompei cares about the students and staff at Long Reach. She added that Ms. Pompei never says no when asked to do something, and there are times that she will do a favor without even being asked. 
The best advice Ms. Jaksec has gotten from Ms. Pompei is to enjoy people like family and friends. She added that people do not know how long they have, so they should surround themselves with people that they enjoy spending time with. 
With all the advice that she gives, Ms. Pompei also remembers advice she has received from others. She concluded by saying that her mother told her "To always be positive, [engage] with your students, and never stop loving what you do every day"; an embodiment that Ms. Pompei exudes everyday. 
---
How Much Do You Know About Ms. Pompei?
Answer the questions and keep a count of how many you get correct.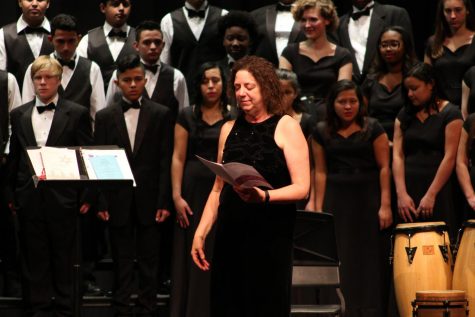 QUESTIONS
How long has she been teaching?

True/False: Ms. Pompei has taught a math class before. 

Where was she born and raised? 

How many children does Ms. Pompei have? 

True/False: She has a son who is also a chorus teacher. 

True/False: She went to a graduate school in West Virginia. 

Name at least 3 of her hobbies.

Who has she described as the "joy of her life"?

What would Ms. Pompei be doing if she was not a music teacher?
ANSWERS
For 35 years  

True, she taught Algebra 1 her first year at LRHS

West Virginia 

One, his name is Kyle 

False, her son Kyle is also a musician but he plays the french horn and he is a teaching artist. She explained, "Kyle is both a teacher and artist (performer). Kyle has a private studio and teaches French Horn lessons. Kyle plays French Horn in orchestras in the Washington, DC/Baltimore area." 

False, she attended graduate school at University of Maryland before transferring to Catholic University of America, where she received her Master's of Music in Vocal Performance.

Possible answers include: traveling, cooking and dining at new places, playing video games with her son, watching movies & musicals. 

Her son, Kyle. (She literally stated "Kyle is the joy of my life!")

She said she was not sure, but she always wanted to be an opera singer.
If you got 7 or more right, then you are on a higher octave. You know Ms. Pompei, but don't let that stop you from getting to know her more. 
If you got 5-7, then you are middle C. You know Ms. Pompei, but there's a thing or two that you could learn about her. 
If you got less than 5, then you're in treble. You might not know Ms. Pompei that well. However, everyday is a new opportunity to learn something new so maybe talk to her if you see her in the hallway.