Soleimani Killing Leads to U.S. vs. Iran Tension
U.S. Drone Kills Prominent Iranian Official
Recent tension between America and Iran has led to President Trump launching an attack via a drone near a Baghdad airport on January 3rd, killing top Iranian general Qaesam Soleimani amongst others. 
Soleimani's organization, the Quds Force, was originally labeled as a terrorist group in 2007 under President Bush's administration. Later, under the Obama administration, Soleimani himself was determined to be a dangerous terrorist as multiple deadly events were connected to him. President Trump felt he had a clear target and a clear shot to take Soleimani down as he authorized it previously in the event that an American was killed.
"We took action last night to stop a war. We did not take action to start a war," said Trump via an address to the nation on the same day of the attack.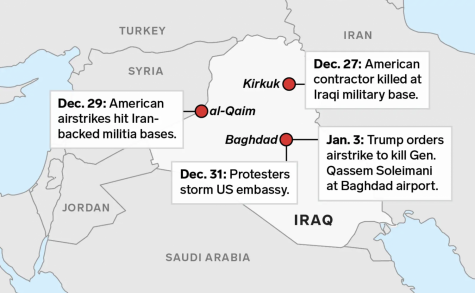 Trump launched this attack after feeling the U.S. was in danger following a series of events in the days before. On December 27th, a rocket attack was launched on a base housed with Americans in Iraq, which killed one and wounded six. The attack was found to be linked to Iran and on the 29th, Trump ordered for airstrikes to be launched on five Iranian facilities, killing 25-plus people in total. On the 31st of December, the U.S. Embassy in Baghdad was attacked by Iranian protesters who were angered by the American airstrikes. Then, on January 3rd, Trump launched the drone attack that devastated Iranians and left some Americans in outrage and confusion.
"I think what he did just caused chaos between both countries," Senior Micah Butler began. "If he hadn't done anything, we wouldn't be in this position. However, at the same time, we didn't know what they were going to do," he said in exasperation. 
Americans took to social media, bashing President Trump and predicting World War 3 could begin; many tweets consisted of memes about being drafted into war. There was also controversy as old tweets from 2011 resurfaced of Trump claiming that "In order to get elected, [President Barack Obama] will start a war with Iran." In this tweet, Trump was criticizing the politics of Obama's time in office, though he went on to kill a top Iranian general during his time in office, to the outrage of Iranian population.
On the other side, many Republicans celebrated – the president that they elected finally took Solemani down after others failed to do so. Many were alongside his move, one, Senator Lindsey Graham, said "Thank you, Mr. President, for standing up for America."
Following a day full of both anger and joy on social media, over 3,000 troops were deployed to the Middle East. Soldiers felt the WW3 tweets were ignorant, families were heartbroken, and the government seemed confused about where America would go from here, considering that more troops were deployed, despite Trump's previous plan to bring a group of soldiers home. A few days later, Iraq voted to expel the U.S. troops who were already stationed in the country.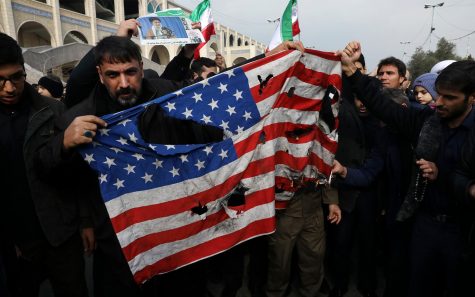 Iranian leaders vowed revenge on the United States which increased tensions within the country. Upwards of 200 Iranian Americans were said to be held at the U.S. border, each being questioned about their feelings and involvement in the developing situation. Officials said that this was standard protocol, but Iranian Americans reported feeling far from being treated as American citizens. 
As for Iran, the days following the killing of Soleimani consisted of numerous protesters taking to the streets to mourn his death and show their infuriation. Reporters said that protesters could be heard exclaiming "Death to America!" They emphasized that they would get revenge, and soon after the incident, officials even ended nuclear restrictions that had been established during Obama's time in office.
Then, on January 7th (EST), Iran fired at least 22 missiles at two Iraqi military bases where U.S. troops were stationed. It was originally reported that there were no casualties or injuries; however, it has recently come out that there have been multiple injuries as a result of this attack. The next day, a Ukrainian passenger plane crashed, killing 176 people. Reports later claimed that Iran accidentally shot down this plane, possibly believing it was a cruise missile.
Following all of these attacks, the U.S. House of Representatives is considering legislation to stop Trump from taking further action against Iran, as they believe his attacks could be considered a war crime, meaning his actions violated the rules the nation has set in place for war. Some media outlets believe that this is not the end of Iranian attacks, and that one could come when no one is expecting it. Professionals have warned large companies about cyberattacks, as Iran is considered a master in this area.  
Overall, tension is high in America, Iran, and surrounding areas, and not many know how to feel about what has occurred thus far.
---
Works Cited