Culture, Class, and Confidence
Delta Scholars Recognition Ceremony
"What's our motto?" Ms. Grice shouted to the girls of Delta Scholars.
"Culture, class, and confidence" almost 120 Delta Scholars called back.
Delta Scholars, a group for minority girls in Howard County, had their Recognition Ceremony on Thursday, October 24, 2019. Girls from schools across the county, including Howard, Glenelg, Oakland Mills, Hammond, and Marriotts Ridge came together in Long Reach's auditorium for the formal induction ceremony. 
Senior Delta Scholars Co-President Abigail Paul explained that going through the process of an Induction Ceremony showcases the importance of the members of a club. Paul wants the new members to feel this importance as they begin their time in this group. 
Delta Scholars encourages leadership, requires service, and holds events to allow female students to speak freely and learn more about themselves and others.
The ceremony opened with a few words from school advisors and followed with the Alpha Achievers escorting the inductees into the auditorium. The audience continued their applause as each girl was ushered to her seat.
After a few words from advisors, presidents, and other special guests, the new inductees were called one-by-one to walk across the stage and receive their certificate.
"[I'm happy] to finally be able to not only join an amazing group but to join a group where I can form new bonds with the scholars while helping in the community," Senior inductee Kaya Peyton said.
A pledge to attend meetings, participate in community service, and maintain a 3.0 GPA or better was made by each new inductee after all of the girls walked across the stage. 
"I felt like I was truly joining the program, and I felt very comfortable with the other girls [while reciting the pledge]. It felt like a family in a sense," Junior inductee Haley Lawson noted.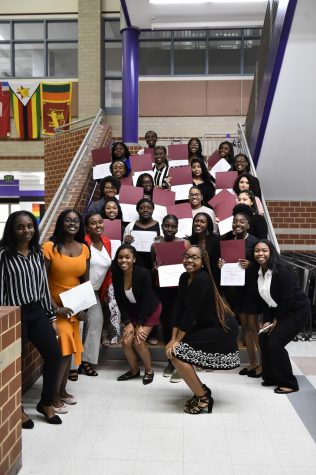 Around halfway through the ceremony, words of encouragement were shared by Stephanie Wall from the Howard County Executive Office. She shared a poem that Representative Elijah Cummings, a civil rights activist, loved in the time he was alive. The tie to Cummings was particularly appropriate as Delta Scholars is a group that was formed for minority students.
A song of encouragement was then sung by Senior Delta Scholar Kyra Stewart. Members of the executive boards at each school, primarily presidents, then handed flowers off to the advisors of their schools, sharing a brief paragraph with the audience as to the impact each advisor has had on them.
"Our advisors Ms. Grice, Ms. Covington, and Ms. Lipscomb have really helped us become better, and we are so grateful for their impact," Paul included.
As the ceremony came to its close, principals from the various six schools made a few final comments to the new inductees prior to the reception and picture taking.
As these newly inducted students start their time in this group, they are excited about the service projects they will complete, the friendships they will make, and the discussions they will have.
"I see so much potential," Paul said. "Honestly, this year's group is amazing!"
---
The Application Process
Students who want to be a member of Delta Scholars can attend an interest meeting and then pick up an application from the meeting or in Ms. Grice's office. The following are required for the application:
a 3.0 GPA
an essay
three teacher recommendations
must be in at least tenth grade to apply