Makin' Moves
Long Reach Junior Josh Carroll begins a promising music career
Logic, GoldLink, Brent Faiyaz, Gallant, Wale, Willtharapper, Shabazz, Q Da Fool: all are just a few of many artists hailing from the DMV. Long Reach Junior Josh Carroll hopes to be the next. Me vs. The World, Carroll's EP, is a result of copious dedication. But for him, this is just the beginning.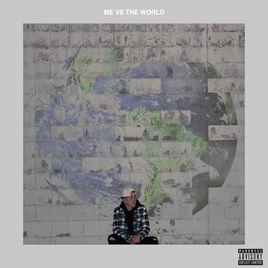 "I have always loved music whether it's playing guitar or rapping over tracks. It has always been an outlet for me," stated Carroll. Carroll did by no means decide to dedicate himself overnight; his love for music has always existed. Music has always allowed him to unwind and get past difficult days.
"I respect and support what he's doing with music because I feel he has a good chance to go big," says Junior Kim Khai.
Me vs. The World, Carroll's EP, is the best possible way that he could have made an entrance. Carroll demonstrated confidence and maturity on the mic, proving that he could be a force in the music industry in the near future. Although the EP was only six songs, it tells a lot about who Carroll is as a person and the life he lives.
"The overall message or idea of this album was to give a taste to people of who I am, what I want, and the sound [that] I have," says Carroll.
To Carroll, songs such as "Pour it Up" and "Me Vs. The World (Intro)" hold the most weight. In his intro, Carroll gives his opinion on the world around him: whether it be issues about race, our president, or even the education system. In this EP, Carroll gives a taste of all of his abilities while at the same time setting a vibe that is authentic and mature for an artist of his age. With a unique, straightforward flow mixed with relatable struggles, Carroll produced an end product that is complete and intriguing.
"You really get a good opportunity to learn about who Josh is as a person in this [EP], like his values and struggles," says Khai.
Producing music has long been a sort of "side-hustle" for Carroll, although currently he has decided to take a more serious approach. By leading YMG Records, his self-made record label consisting of Howard County artists, Carroll hopes to help produce other artists who lack a platform. In the near future, Carroll definitely hopes to make music a full time commitment.
"[…] With the idea of trying to make a living creating and doing something I love to do everyday, I want to share, inspire, and perform my music all throughout the world," states Carroll.
You can expect a lot more production from Carroll and the rest YMG records as he hopes to release several singles and two to three EPs by the end of 2018. The future of Carroll's music career is something to look forward to. Hopefully this is the beginning of the journey of a  new star hailing from Long Reach.