They Just Get Better!
Long Reach Cheerleading Wins Another County Championship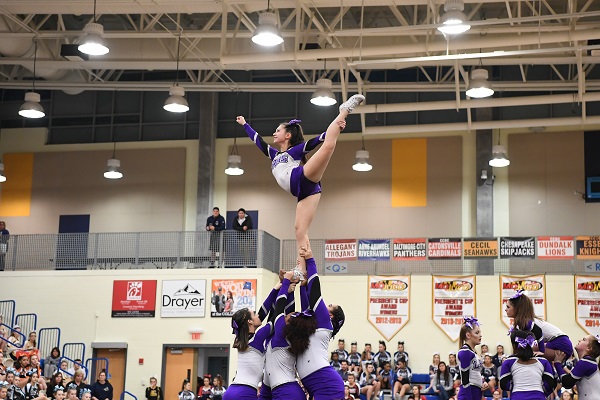 Lightning strikes again! The Long Reach Varsity Cheer Team won their second consecutive County Championship title February 10 at Mount Hebron High School. The Long Reach team has won this title seven times under the leadership of Mrs. Rice and Nikkia Johnson: 2008 (Fall and Winter), 2009, 2010, 2015, 2017, and now in 2018.
The Varsity coach, Nikkia Johnson, has been coaching the Long Reach team for six years. She cheered for Long Reach on the same team as the JV coach, Kristah thompson, in 2000 and was the captain of the team. Her mother, English teacher Mrs. Elisabeth Rice, has been coaching Long Reach Cheer for 16 years and is now the program's administrative coach.
Rice says her strategy for success is "hard work, consistency, and the girls wanting [success]." She believes that if the girls do not have the motivation to win, then the whole thing falls apart.
"Nine out of the fourteen girls were new to the Varsity team [this season]," Johnson says. "They pulled off a tremendous task by winning the county championships having no [previous] Varsity experience."
Her hopes for future seasons are to win fall counties again. "[This] is very doable because half of the team are all-star girls who have been cheering for years, and the new girls won't be new anymore. Both have a taste of victory."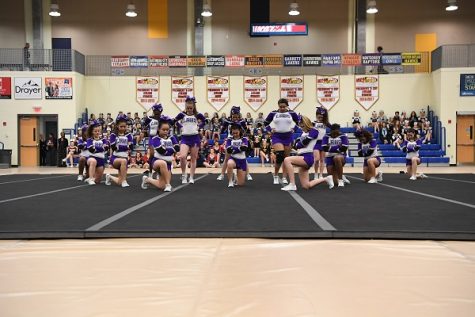 This winter season was a challenge. With so few returning cheerleaders from the previous fall season, Long Reach had to bring up Junior Varsity cheerleaders. "My first Varsity cheer experience was a good one. The team became a family to me, and it was so much fun," Freshman Shannon Wilcox recalls.
"Practices getting prepared for counties was a lot harder than regular practices. Some days we would do like two full outs and then others we would do like four," Wilcox states. "We also had Saturday practice. It was a lot more work because you're always supposed to give 100 percent, but getting ready for counties you have to give 110 percent."
In the future, Wilcox says wants to "bring lots of help to my teammates like they have helped me out. I want to bring [sportsmanship, hard work, and determination] because with that, you can do anything."
Senior Sarah Jungblut, one of the captains on the team, celebrates her last cheer season ever as she moves onto college next year. Her favorite memory was "winning counties last season and this season." She said, "It was a goal that I had been working towards since I was  a freshman, so it was amazing to win after all of the hard practices throughout the four years I've been on the team."
As far as her last cheer season for Long Reach goes, she feels content with the successful year. "Being successful this last season makes all of the hard work the past four years seem worth it." Jungblut continued, "It feels very accomplishing, and even though it is sad to leave this team, it makes it easier knowing I'm leaving it as county champions for two seasons."
Senior Jordyn Tyler, the other captain, has great memories, too. "It has been a great four years and I am so proud of everything we have accomplished. Winning fall season was amazing because we had been working so hard for so long and everything we worked so hard for we got. Having a coach like Nikkia made it that much easier because she led us to get to where we needed to get."
She acknowledged, "Going into the winter season, I was a little nervous because we lost so many people. Then when we won winter, it just showed that no matter how many people you lose, as long as you have a good work ethic, you can do anything you put your mind to."
Tyler is thankful to have ended her last year in such a positive way. She added, "I know that with all the talent and potential that I leave behind, Long Reach Cheer has so much in store for them."
Rice especially will miss her personal relationships with Seniors Jordyn Tyler and Sarah Jungblutt after this year's seniors have graduated. "The two of them are like daughters to me," Rice reflects. "[They] have been with us for four years–eight seasons."
Long Reach Cheer is proud of their accomplishments this school year, and the program is excited to continue the success in future seasons. They are working for a three-peat!