The People's Princess
The People's Princess, Shy Di, the Queen of Hearts. Princess Diana of Wales was the owner of all these nicknames, which were given to her by her affectionate public. Tragically, on August 31st, 1997, Princess Diana died in a car crash in Paris, France. Multiple documentaries aired this past summer to honor the 20th anniversary of her death.
While there are numerous of documentaries available on Princess Diana, these documentaries are designed to remind the public of her charitable work and her life as a member of one of the most recognizable royal families in the world: the British Royal Family.
The first of these documentaries, aired on HBO at the end of July, was by the name of Diana, Our Mother: Her Life and Legacy. As the name suggests, this film was centralized around her life as a mother to her two children Prince William and Prince Harry. What made this documentary unique was it was very much from the perspective of William and Harry.
Junior Anar Shah viewed this documentary and commented, "I thought it was very touching how William and Harry sat down together and spoke about the legacy their mother left. I enjoyed how they spoke of her being fun and the "naughty parent." I respect that they still value her as a mother even though she is no longer around."
In this HBO documentary, William and Harry shared their favorite memories of their mother. William shared how for his thirteenth birthday Princess Diana had models Naomi Campbell, Cindy Crawford, and Christy Turlington surprise him at their home.
Prince Harry shared how he will always miss his mother's hug, and he wishes he had spoken with her more during their last phone call.
"The fact he remembers his mother's hug even though she has been gone for so long is very special and proves how much Diana loved her children," added Shah.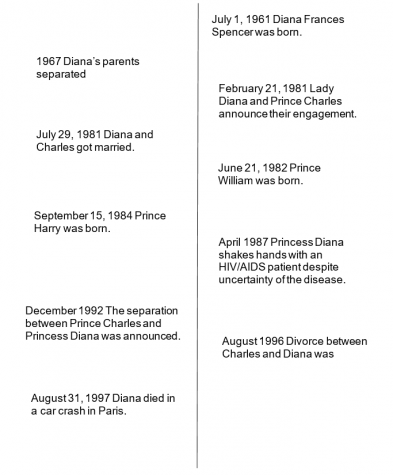 Whilst Shah believed the HBO documentary was personal, Junior Nicholas Howard believed the documentary was not relatable. According to Howard, this documentary was overproduced, meaning the directors "portrayed Diana the way the media and public saw her." Howard wanted the documentary to be made so it could be relatable to everyone, not just a small minority.
One of the last documentaries to air was on ABC. This two-part documentary entitled The Story of Diana was a collaboration between People's Magazine and ABC. The ABC documentary is very much like the older versions of Princess Diana documentaries and does not have much to offer when it comes to exclusive footage. Junior Charlston Stovall watched this documentary and remarked: "I did not like how the documentary was split into two parts because it disturbed your rhythm." Stovall added, "You got into the documentary, and then the next part would be shown the next day–when you wanted to see then and there."
Despite this criticism from Stovall, he did state that he appreciated the music in this documentary. "Often times in documentaries the music is just classical and it becomes boring," he said. Stovall referenced how The Story of Diana had songs such as "Sky Full of Stars" by Coldplay and "Rebel Rebel" by David Bowie, which many people know and can sing along to.
For all old and new Princess Diana fanatics, this past summer was an exciting time as a new light was cast upon this influential person.