Gilmore Girls: A New Generation of Fans
Hang on for a minute...we're trying to find some more stories you might like.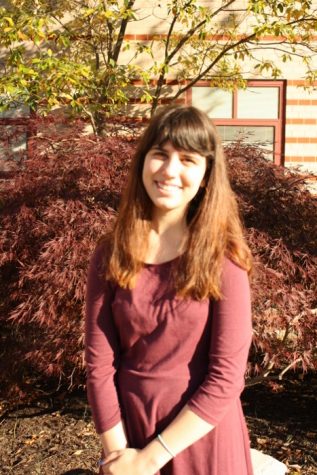 More stories from Brenna Morrison
Gilmore Girls Netflix Revival
♫ If you're out on the road, feeling lonely, and so cold… ♪
This song is beloved to all fans of the recently resurrected early 2000s show, Gilmore Girls. Netflix released a four episode revival on November 25th, much to the excitement of fans everywhere, which opened itself up to a new generation of enthusiasts. "It's such a feel good show," says long time fan and Senior Taylor Novotny. "[It's] so cute and so happy."
The show takes place in the small, quirky town of Stars Hollow and primarily follows the lives of single mother Lorelai Gilmore and her very intelligent and career-oriented daughter, Rory. As Rory grows up and juggles boyfriends, an Ivy League education, and big dreams of becoming a journalist; Lorelai is right there with her, as her best friend.
Gilmore Girls aired on October 5th in the year 2000 and quickly became a classic. The number of viewers and fans grew and the show lasted seven seasons. It has been 9 years since the finale, but show creator Amy Sherman-Palladino felt as though the show lacked closure. So, the cast of the show gathered and a 4 episode event entitled Gilmore Girls: A Year In the Life was released.
"I feel like the revival was a good idea because the show was gaining new fans on Netflix," says Junior Camila Portocarero. This is true; Gilmore Girls has 5 stars on Netflix and has been on the trending list for weeks.
With such high expectations for the revival, fans wanted to see a multitude of their favorite characters on screen again, such as Rory's ex boyfriends (Dean, Jess, and Logan). Almost the entire cast returned, and it was almost as if no time had passed at all for the eccentric town members of Stars Hollow."It was great to see all of the characters come back; everyone looked so much older," Novotny commented. "I was really happy to see Jess again, and Kirk. They were my favorites."
Unfortunately, not all the cast members could return. Edward Herrmann, who played Richard Gilmore (Lorelai's father), passed away. The show did not gloss over the loss of one of their main characters; instead, they explored new territories as Richard's family members tried to deal with loss and grief. This presented the characters with new conflicts, and renewed old conflicts from the original show.
The overall reaction to the revival has been mostly positive, and the controversial ending has inspired many new theories about the future of the characters, along with hopes for a second season.
However, some people were disappointed with the outcome after such a long wait. Some, such as Schneider, are disappointed with Rory's character arc. "I disliked how it's ten years later and Rory can't get her act together. She's in her 30s now; she should be more responsible."
Gilmore Girls is a show full of heart-warming moments, vivid characters, and situations that everyone can relate to. Even though its beginning was sixteen years ago, it is never too late to experience it anew. And for everyone who has finished the whole show, it does not hurt to pray for a second season of the revival.