Ocean Makes Some Waves
"
My favorite track off this album is "Ivy" because of how nostalgic it sounds. Personally, it reminds me of something I'll remember forever. To me, this song symbolizes a love filled relationship."
— Senior Nino Martinez
Frank Ocean's long-awaited album, Blonde, finally released on the 20th of August in 2016. Blonde falls under the category of Contemporary R&B and Psychedelic Pop due to the utilization of wavy beats and light vocals. What makes Blonde so unique is that the album has such a different sound in comparison to other albums released in 2016.
"This is the best thing I've ever heard in my life; I didn't mind the wait," claimed Senior Diallo Harriston, an active Frank Ocean fan.
This project contains seventeen songs, all addressing some sort of heartbreak. These songs generated 65.4 billion streams in the first week. Blonde being placed third overall after Drake's album Views, and Beyonce's, album Lemonade, is an amazing accomplishment.
It was produced by Mike Jean, Pharrell Williams, and had several features including artists, Beyonce, Yung Lean, Andre 3000, and Todd Rundgren.
"Quality takes time, and he definitely delivered. I waited two years for this album, and I can honestly say I'm not disappointed," said Harriston. " This album has a lot of levels. Some of the songs were happy-sounding while others were just about genuine sadness, but all were beautiful. That is what I love about Frank, he talks about stuff that's sad, but he does it so beautifully."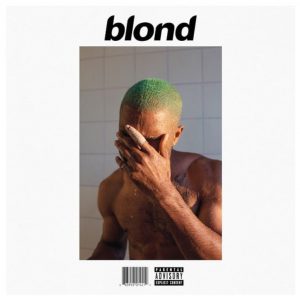 The way that Ocean compares social injustices to animalistic situations highlights his lyrical talent to discuss such controversial and loaded issues in a way to make a strong impact on the listener. In Pink and White, he juxtaposes these lyrics with a light and slower tempo, which allows his tone to sound calm, as opposed to lecturing the listener about such issues. As a result, the listener is more receptive to his message and can feel the underlying truth of his words.
"I liked how I could relate to his definition of being alone, and his self reflection on the loneliness he experienced makes his music more real," claimed 17 year old Senior Ninoska Martinez, another active fan. "The instrumentation is really soothing for Pink and White."
Additionally, his ability to bare his soul in self-reflection of past and current relationships, along with his sexuality, is admirable because he encourages his listeners to feel comfortable with who they are. It is possible to hear the strength behind Ocean's voice in Self Control while he sings about such personal topics, rendering a more serious tone to this song. The distortion at beginning of the song represents the unclarity of who he is as a person as he travels through a journey of self acceptance. This song challenged my whole idea of love and all the types of ways it should be expressed in relationships and through self love.
His lyrics are further charged with messages for listeners, such as his recommendation in Skyline To to avoid "bad energy" and become content with solitude. This song incorporates a peaceful, slower tempo to complement this message of acceptance within oneself.
Ocean's talent as a diverse, controversial, and progressive artist makes Blonde one of the best albums released in 2016. In today's age, it is hard to find an artist who can both sing and write their own lyrics. Ocean's talent is irrefutable; he excels both vocally and lyrically. His angelic voice in conjunction with his heartfelt lyrics makes him hard to replace. Frank Ocean's music will be around for a lifetime.