A Historically Good Season
Girls' Varsity Basketball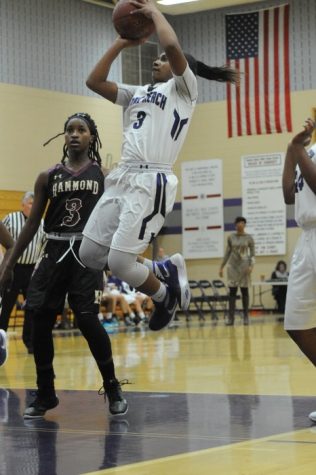 A good look for the school, and a turning point for our sports. Girls Varsity Basketball had a successful season this year, going 9-6 overall, and even making a playoff run all the way to the third round. Apart from making their school proud and boosting the reputation of the school's basketball program around the county, their season is taking steps forward to grow the popularity of Girls'/Women's basketball.
The season may have started with a discouraging 55-21 blowout loss to Glenelg on the road; however, the team quickly bounced back and beat Marriotts Ridge. The celebration did not last long for they knew they would be facing Glenelg once again. This time Long Reach would come out on top, avenging their week one loss.
Junior Devon Williams mentioned this as her most memorable game of the season. No, not a personal best game, but a win over a team which previously upset them in their season debut.
Kiana Williams, sophomore basketball player, noted her highlight was , "being able to go to the 3rd round of the playoffs."
There is no doubt this team had a chip on their shoulder, and they definitely carried it with them throughout the season. In order for the team to have reached that success, they obviously needed team chemistry. Everyone on the team has different personalities and something different to offer. "We worked hard day in and day out and competed really well together against other teams," said Devon Williams.
Now, the final scores have been taken and the court empties… it is the end of the season. During this period, some players will choose to enjoy the rest of the school year, prepare for next season, or prepare to graduate, but one thing is for certain – all players are reflecting fondly on their season.
Devon Williams pointed to adversity when reflecting on her season: "Due to not having the best seasons in previous years, everyone expected us to not do well and have a losing record. These adversities just made us a stronger team and we played each game like we had something to prove."  
Despite feeling the pressure as well, Emily Joyce, junior basketball player, had every bit of confidence in herself and her team, saying, "I expected us to have a good season and go far because all of us were excited and really wanted to win."
Blocking outside talk and noise is crucial in sports and in life in general. People often have doubts and something to say, but it seems that the team was able to use that outside talk as motivation to make the team stronger.
It has been well documented that Men's basketball is much more popular than Women's basketball, including at the college and professional level. Despite having record TV ratings of the WNBA finals in 2014 and a few spurts of record ticket sales, regular season attendance, and tv ratings, the sport has been very inconsistent in all of those categories since it started in 1997. That is why it is so important for female basketball players everywhere to continue to spread awareness of the sport, and it is especially our job as not only students of Long Reach, but the general public, to support Girls'/Women's basketball the same way we support men's/boys basketball. Congrats to the LRHS Girls' varsity team for the success this season!