Seussical is Faithful – 100%!
May 31, 2016
Oh, the things you can think as you watch the wonderful performance of Seussical the Musical. Long Reach's performance of the Dr. Seuss mash-up was a huge success in February, leaving audience members laughing in their seats and cheering for JoJo and Horton, the classic underdogs.
While living in the jungle, an elephant named Horton discovers a flower with a tiny speck on it. To his amazement, voices emerge from the speck and Horton realizes that he can hear a little boy, JoJo, who is reprimanded for his creative thinking by his mayoral parents. Horton goes on a long journey to keep the speck out of danger, but danger always strikes again. He cannot keep it safe forever, especially while surrounded by the other animals in the jungle, who tell Horton that he is just imagining the voices and doubt him, as well as juggling a love interest, who simply wants Horton's attention.
The atmosphere was filled with a comical spirit as the actors gave hilarious performances to explore the play's questions regarding trust, friendship, love, and believing in oneself. Audience members related to the bird Gertrude McFuzz's humorous attempt to go to any measure to get the attention of the love of her affection before realizing that it is better to stay true to oneself. In her case, desperation manifested in taking pills to grow a bright, beautiful, blue tailfeather, which went unnoticed by Horton, as he was too absorbed in saving his speck.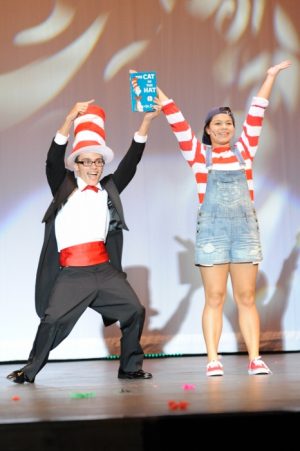 The set design was as imaginative and creative as JoJo's mind, with clever strips of ribbon waving across stage to simulate a stormy night, along with precise lighting from the tech crew to add drama to the storm, or a bright impression of the colorful forest in which the animals lived.
When the word musical gets thrown around, people assume some sort of drama filled performance. However, Seussical the Musical proves just how that assumption is off base. The moral of Seussical is that creativity is a positive thing and should not be taken away–even if many people discourage it. This theme is conveyed through Dr. Seuss' creative jokes and rhyming to reach audiences in a dynamic and interesting way, appealing to all ages.
Theater Director Ms. Blasko commented, "It was a joy to direct Seussical the musical. I loved the stories growing up and it was fun to share them on stage with the next generation. I am very proud of the cast and crew who put on a wonderful show despite being snowed out of our original scheduled performances."
The business of producing musicals is hard work but truly does pay in the long run. "Trying to get everyone in the cast to be together both visually with dance moves and vocally with music can be a challenge," One actor said about the production. Time and again, the medium proves that audiences enjoy the representation of morals through creative storytelling means; otherwise, how would we be able to internalize these life lessons that may be taken for granted?