Vivienne Westwood
March 29, 2023
"Intelligence is composed mostly of imagination, insight, things that have nothing to do with reason." To say Vivienne Westwood is imaginative is an understatement. She turned her humble beginnings into a successful career by creating innovative, punk rock fashion.
Westwood was born Vivienne Isabel Swire on April 8, 1941, in the English town of Glossop in Derbyshire to her father, who worked as a cobbler, and her mother who worked at a local cotton mill. The family moved to another town when Westwood was 17 years old, and she worked at a factory before eventually enrolling in teacher training school.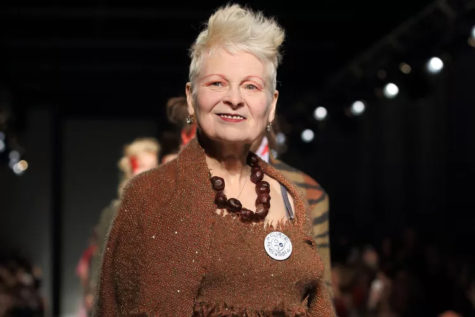 She lived a childhood far removed from luxury and art, though her life turned around when she married Derek Westwood in 1962, with whom she had a son named Ben, and began working as a teacher. She designed her own wedding dress and the couple lived happily, at least, until their divorce in 1965.
Westwood met and coupled with Malcolm McLaren, an art student whose free spirit inspired her own creative freedom, prompting her to start making jewelry on the side. "I latched onto Malcolm as somebody who opened doors for me," Westwood said. "I mean, he seemed to know everything I needed at the time."
McLaren served as Westwood's guide into this new chapter in her life, eventually opening a clothing boutique in London in 1971 featuring some of Westwood's punk inspired designs. This style of designs became the wardrobe for the band McLaren managed, the Sex Pistols, helping to create their unique brand.
Even as the styles changed, Westwood refused to follow the trends, instead heading in a new direction of pirate-esq attire, creating new pieces that turned heads. "Vivienne's effect on other designers has been rather like a laxative," English fashion designer Jasper Conran once explained. "Vivienne does, and others follow."
Westwood's personality, like her style, was unconventional and daring. She once imitated Margaret Thatcher for a magazine, wearing a suit that Thatcher had ordered but had yet to come, irritating the woman. Along with her personality, her lifestyle was also unconventional.
Despite her wealth and success, Westwood continued to live in the same South London apartment for more than thirty years, paying only $400 a month for rent and choosing to ride her bike to her studio. There, she would cohabitate with her next husband.
In 1992, after Westwood and McLaren had been divorced for ten years, Westwood married Andreas Kronthaler, her assistant who was 25 years younger than her. For the remainder of her life, Westwood continued building her fashion empire.
She gained the royal title of Dame Vivienne Westwood for her work in fashion, she was named British Designer of the Year three times, and the Queen awarded her the Most Excellent Order of the British Empire in 1992. Not only was she a fashion icon, but Westwood was a philanthropist. She launched her own Climate Revolution in 2012, has been an ambassador for Greenpeace, and created their official "Save The Arctic" logo in 2013.
Westwood "work[ed] until the end", according to husband Kronthaler. She died at the age of 81 on December 29, 2022 surrounded by friends and family. She leaves a passionate legacy and so much wisdom. "Fashion is life-enhancing and I think it's a lovely, generous thing to do for other people."
Citations
Harrington McCoy, T. (2022, December 29) People. Dame Vivienne Westwood, Legendary Fashion Designer, Dead at 81. https://people.com/style/fashion-designer-vivienne-westwood-dead-at-81/
Adefolalu, A. (2022, December 30). Who is Vivienne Westwood's first husband Derek? The US Sun. https://www.the-sun.com/entertainment/7017982/who-is-vivienne-westwoods-first-husband-derek/
Heilman, G. (n.d.). Vivienne Westwood dies: Who was she and what was the cause of death? AS. https://en.as.com/latest_news/vivienne-westwood-dies-who-was-she-and-what-was-the-cause-of-death-n/
Vivienne Westwood biography. (2021, May 25). Biography.com. https://www.biography.com/history-culture/vivienne-westwood
Vivienne Westwood: British fashion designer. (2023, March 4). Britannica. https://www.britannica.com/biography/Vivienne-Westwood
Wickman, K. (2022, December 29). Fashion legend Vivienne Westwood dies at 81. Vanity Fair. https://www.vanityfair.com/style/2022/12/vivienne-westwood-dies-at-81