The Goth Queen of the Screen
Winona Ryder for Women's History Month
March 24, 2023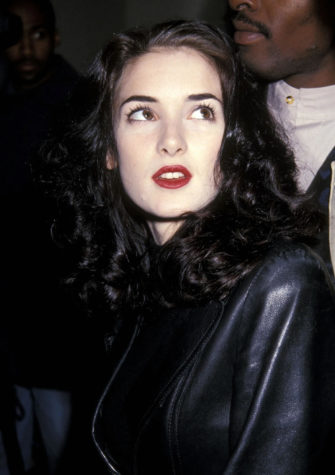 Who's the goth queen of the screen? With her impressive film legacy, Winona Ryder has a solid claim to the title. From classics like Beetlejuice, Edward Scissorhands, and Heathers, to her modern revival in Stranger Things, Ryder has cemented herself as a household name. 
The Jewish actress, originally named Winona Laura Horowitz, was born to Cynthia Palmer and Michael Horowitz, both of whom were authors and editors, giving her an early taste for the art of storytelling.
She entered the world of acting at only 15 with her 1986 film, Lucas, where she took on the stage name we all know her by today. While Lucas was a romantic comedy, the role that made her famous was the gothic Beetlejuice, directed by Tim Burton; Ryder credits Burton for her rise in stardom, and would later work with him again as the female lead in Edward Scissorhands. 
Throughout Ryder's career, she would continue to play lead roles in various cult classics, many of which had an edgy tone, which made her an icon for all lovers of spooky. Some of her darker films, primarily Girl Interrupted, also delved into complex discussions of mental illnesses, which Ryder herself has suffered from. 
Ryder now states that because of an oxycodone prescription for a broken arm, she entered a period of anxiety, depression, and even shoplifting, which accumulated in Ryder taking a break from acting. After taking time to better her mental health, Ryder returned to the screen with a handful of smaller roles, including a return to the familiar face of Tim Burton in his movie Frankenweenie. 
The world saw Ryder return in full force with her famous role of Joyce Byers in Stranger Things, continuing her history of roles in edgier media, along with her history of award winning performances; along with widespread critical acclaim, she has been nominated for various Academy Awards, Golden Globe Awards, Screen Actors Guild Awards, and a Grammy Award. 
But statues aside, her real status as a film legend comes from her groundbreaking work throughout her career. Ryder consistently plays strong, flawed, and usually alternative characters; the contrast to other women on the screen, especially at the time, provided a role model for all the girls who didn't quite fit in, girls who were alternative, girls who felt flawed.
Through the ups and downs of her legendary career, the work she leaves behind makes it clear; Winona Ryder is the ultimate Scream Queen. 
Citations
Rogers, K. (May 03, 2022). Winona Ryder. Encyclopaedia Britannica. Retrieved from https://www.britannica.com/biography/Winona-Ryder