Damar Hamlin
February 3, 2023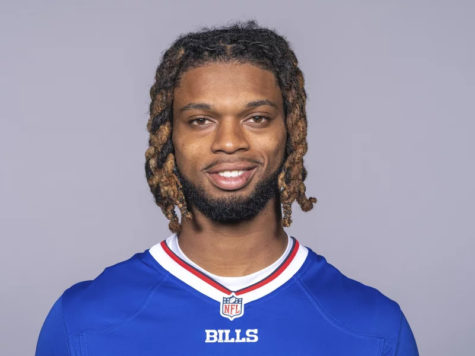 On January 2, Buffalo Bills safety Damar Hamlin skyrocketed to the top of news coverage after suffering from cardiac arrest on field.  An on-site NFL medical team resuscitated him right there in the stadium due to his critical condition, while the rest of the Bills-Bengals game was subsequently canceled.  Hamlin was transferred to the University of Cincinnati Medical Center where he made a remarkable recovery. He has since been discharged from the hospital, and occasionally "dipping his toe back in here and getting on the road to just getting back to himself" (CNN).  But who is Hamlin outside of his football career?
Born on March 24, 1998 (24 years old), Hamlin grew up playing football and basketball in Pittsburgh, Pennsylvania.  He was named the top-rated defensive player in Pennsylvania during his time in high school and was quickly sought after by Division 1 football schools, but he chose to stay in Pittsburgh.  "I was just so Pittsburg.  Everything was Pittsburgh for me.  I wanted to… give the city another reason to smile" (NPR).
But he's more than just his fame in football.  Damar Hamlin is the CEO of Chasing Millions, an apparel brand that states calls itself "A Community of Young Hustlers" and acknowledges that "The path to the top can be lonely – we tell the story of your come up through clothing and put a community of like-minded people behind you to help achieve the life you want" (Chasing Millions).  The Chasing M's Foundation is committed to philanthropy and dedicated itself to the 2020 Community Toy Drive as its first philanthropic endeavor.  Just as he uses his charity foundation in his life, Hamlin states "As I embark on my journey to the NFL, I will never forget where I come from and I am committed to using my platform to positively impact the community that raised me" (OSDB Sports).
Citations:
Damar Hamlin. (n.d.). OSDB Sports. https://www.osdbsports.com/nfl/players/damar-hamlin/3a6b8eac-9a76-47e0-b791-b6ee245ae924 
Home. (n.d.). Chasing Ms. https://www.chasingms.com/ 
Martin, J., & Howorth, A. (2023, January 19). Damar Hamlin is 'a positive energy bubble' at Bills facility. CNN Sports.  https://www.cnn.com/2023/01/19/sport/damar-hamlin-buffalo-bills-bengals-nfl-spt-intl/index.html 
Treisman, R. (2023, January 3). Who is Damar Hamlin? The Buffalo Bills safety keeps Pittsburgh and his family close. NPR. https://www.npr.org/2023/01/03/1146647297/damar-hamlin-bio-buffalo-bills#:~:text=Hamlin%20grew%20up%20playing%20both,metropolitan%20area%20in%20Western%20Pennsylvania.&text=AP-,Damar%20Hamlin%20of%20the%20Buffalo%20Bills,team%2C%20pictured%20in%20June%202022