Decades of Devotion
Don't Forget, Rita Moreno is Here in America
October 6, 2022
Very few can say that they are an E.G.O.T. winner; only 17 people have won all four awards necessary for the title (Emmy, Grammy, Oscar, and Tony). The third person to accomplish this has an amendment to her acclaim: she was also the first Latina woman to do so. Rita Moreno, born in 1931 in Humacao, Puerto Rico, is an undeniable media legend.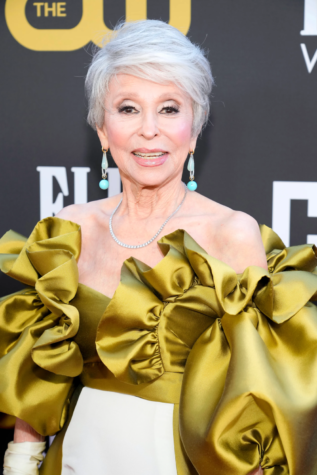 Moreno, born Rosa Dolores Alverío, immigrated to New York City at age five with her mother. At age 11, she was able to pursue her dreams of stardom with a translation role, and then a full Broadway debut two years later in Skydrift. This opened doors for her to move into Hollywood films, where she adopted the stage name she is now known by. 
Despite her early success, Moreno faced many challenges common for people of color in the film industry. Due to her ethnicity, she was typecast into stereotypical and sexualized roles, or made to play a myriad of races that were not her own. Even her 1961 Academy Award for Best Supporting Actress, won for her role as Anita in West Side Story, could not improve the jobs she was given, inspiring her to leave mainstream Hollywood.

Her return years later marked a newfound era of success, as Moreno was finally able to branch out, receiving acclaim congruently. Starring in the children's TV series The Electric Company, she earned the 1972 Best Recording for Children Grammy for her work in the soundtrack, followed by a Tony for Best Supporting Actress in a Play, given for her 1975 role as Googie Gomez in The Ritz. Two years later, in 1977, the Emmy for Outstanding Individual Performance in a Variety or Music Program was awarded to Moreno, elevating her to the status as a legendary media performer. 
Moreno's broad range of work opened doors for both Hispanic people and women, drawing attention to the inequalities they faced in the entertainment industry and then defying them. The actress, now 90, has watched the film industry evolve, and helped shape it over her nearly 80 year career. Rita Moreno has marked her undeniable place in media history. 
Works Cited
Alexander, K. L. (n.d.). Rita Moreno. National Women's History Museum. Retrieved September 16, 2022, from https://www.womenshistory.org/education-resources/biographies/rita-moreno 
Geier, T. (2022, June 12). All 17 EGOT winners, from Audrey Hepburn to Jennifer Hudson (photos). The Wrap. Retrieved September 16, 2022, from https://www.thewrap.com/all-egot-winners-audrey-hepburn-whoopi-goldberg-mel-brooks/ 
Photo Citations:
Farchils, "Folk Dance of Mexico." INGBIN 2017. https://imgbin.com/png/F2NjE14M/folk-dance-of-mexico-baile-folklorico-folk-dance-of-mexico-png