Chino Moreno: Oceans of Dissonance
The Angry Man with a Voice of an Angel
September 27, 2022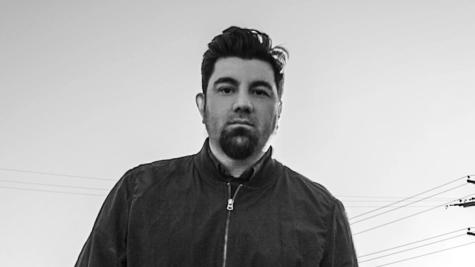 Sewing the petals of peace with the tides of chaos, Deftones' lead vocalist Chino Moreno has healed hearts all around the world with his weary voice and angsty lyrics, oftentimes complemented by  melodic yet abrasive guitar riffs and erratic drumming. One track might employ a melancholic tempo and bleeding reverb, while another might borrow an angrier sound followed by violent screams and paralyzing chord progressions. Moreno's soundscapes will drift you through valleys, quiet and colorful, only to shove you into rivers of droning noise and broken voices. And yet, it's with that broken voice that such atmospheres are unraveled. 
Not unlike Deftones' music, often charged with intrigue and seductive affect, Moreno lives in the shadows. It's common for the lead vocalists of a band to be the poster-boy of the project, indulging their life details in interviews and weaving a dedicated web of strong fans along the way; that being said, Moreno prefers a more reserved approach—a stark contrast to his explosive disposition. Born and raised in Sacramento, California, Moreno lived a normal life for the majority of his childhood, until he met Abe Cunningham and Stephen Carpenter. The three came together to form Deftones in 1988, paving the way for one of the most memorable nu-metal bands of the previous and current generations.
Their second project, "White Pony," is their most prized achievement, selling over 1,185,000 copies and creating waves within rock subcultures. The "White Pony" single, Change (In the House of Flies), stands to be their most streamed song on musical services such as Spotify and Apple Music. Its dissonant whines and spiraling musical textures have solidified Deftones as a quintessential metal band, with Moreno setting the stage for the next generation of bands to come.
Works Cited
"Chino Moreno." Spotify, https://open.spotify.com/artist/0Wfo0pd0KC47vx7uUEVOQ9. 
Dick, Jonathan. "Deftones' Chino Moreno on Surviving, Evolving and 'Gore'." NPR, NPR, 3 May 2016, https://www.npr.org/sections/therecord/2016/05/03/476636845/deftones-chino-moreno-on-surviving-evolving-and-gore. 
Johnston, Emma. "Drugs, Death and Dark Days: Chino Moreno's History of Deftones." Loudersound, Louder, 17 Sept. 2016, https://www.loudersound.com/features/drugs-death-and-dark-days-chino-moreno-s-history-of-deftones.