The Phantom Of The Opera
An Epic Theatrical Crossover
February 21, 2022
The show has gone on! Here is the tale of a play that got delayed. On September 24th through the 26th, after a year and a half of anticipation, the Long Reach cast and crew were finally able to perform The Phantom Of The Opera… rival high school cross-over edition.
In March 2020, Mrs. Blasko's theater performance was two weeks away from opening day of The Phantom of the Opera when the state mandated the school closure due to the pandemic. Mrs. Blasko explained, "All we were really going to do was bring the technical elements together and the chorus together… Everybody knew their lines, everything was choreographed, we had a couple little set pieces to make, but we were pretty much ready to go."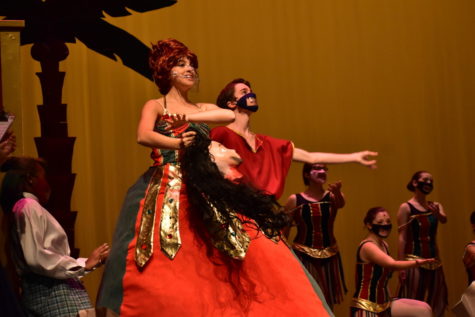 Upon returning to in-person school, it was decided that the show must go on. Because the majority of the original cast of Long Reach's Phantom Of The Opera was made up of the graduating classes of 2020 and 2021, many roles suddenly became vacant that needed to be filled. But, in a shocking twist, the students and staff of Howard High School lended their hand. Mrs. Blasko and Ms. Pompei of Long Reach joined forces with Mrs. Greffen of Howard, who became the show's Guest Director.
These schools are considered "rivals" by many, especially because of their long history of heavy competition in football. However, Mrs. Blasko can attest that the Howard students "really enjoyed their time here. Our students at Long Reach really welcomed them in. They said they felt welcomed at our school, which was really nice. So much so that a couple of them emailed me and said 'can I audition for the [upcoming spring musical] Lion King?' I said 'nooo! It's just a one time thing.'"
Long Reach Junior Grace Drasin played Phantom's iconic ingenue, Christine Daaé. She is one of the most beloved characters in all of Broadway, and with it being the dream of many theatre girls to play one day. "I've been a lead before a couple of times," Drasin said, "but not on this large of a scale. Christine is definitely the most challenging role I've played."
This character has many climactic vocal moments, and according to her, Act 2's "Wishing You Were Somehow Here Again" was the hardest song to perform. "At its heart, the song is simply about a girl who misses her father. Christine is entirely lost and devastated during this song, and finding those emotions and being able to express them adequately was very challenging. That song by itself challenged me to dig deep and allowed me to explore emotions I wouldn't have thought to explore in other roles… It's one of those songs that everyone in the audience can relate to in one way or another, so it's important to accurately express those emotions."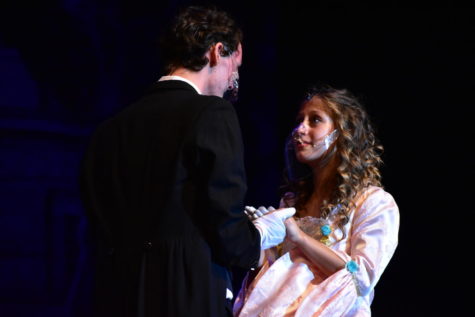 Howard Senior Chris Lee played The Phantom, and Howard Junior Michel Duffy played Raoul — the men in the love triangle. They too had many beautiful performances, with "All I Ask of You" and "Down Once More" being highlights.
This musical began with the character Carlotta, played by Gianna Casanova of Howard, delivering a solo opera performance. Yes, with the European accent and vibratos and everything. When Howard student Chris Lee's character, The Phantom, ordered Drasin to deliver those iconic high notes at the end of "The Phantom Of The Opera" song, the crowd gave a thunderous applause. Who can resist a perfectly delivered E6 note? That moment set the tone for the rest of the play, which ended with even greater enthusiasm.
This epic crossover naturally increased this production's talent and manpower to work with. A play that has been anticipated for this long needed to leave the best impression it could in order to ensure that it has been worth the wait, and it certainly delivered.
Sophomore Luna Fessehaye described her experience with this play's crew. "All the sets were already started, so it was more so just learning my stuff rather than building things, and also I really liked the team I was surrounded with and the people from Howard were also very nice, despite popular belief!"
"I tried out and got a bigger part this time!" said Senior Megan Oberuch, who ended up playing the character Reyer. "The cast is way more fun than the crew, so I wanted to switch, and I ended up having a lot of fun."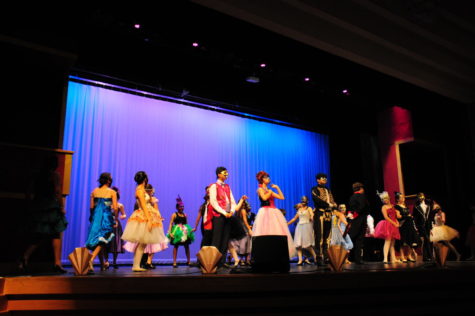 "High school theatre is a wonderful thing to be a part of," Mrs. Blasko enthused. "I'm so blessed that I was able to work with Long Reach and Howard and I just feel like I'm the luckiest teacher in the world."

Her and Mrs. Greffen's theatre directing skills, as well as Mrs. Pompei's musical coaching, shined that opening night along with every other student involved. With 18 character roles, 9 ballet dancers, 8 ensemble members, 38 behind the scenes, and a surplus of passion, this play's greatness was in good hands.
Ultimately, this story's ending wouldn't have been possible if Long Reach had not taken the chance to make lemonade out of the original play's disappointing cancellation. By making the best out of these circumstances, we created a path forward that led to these schools coming together for this unforgettable comeback. With High School Musical 2 coming up this January and Lion King in the spring, the future for Long Reach Production is without a doubt bright.