The History of Christmas
How have Christmas traditions evolved over time?
December 18, 2021
Today, more than 2 billion people celebrate Christmas each year. 160 countries consider Christmas to be a major holiday.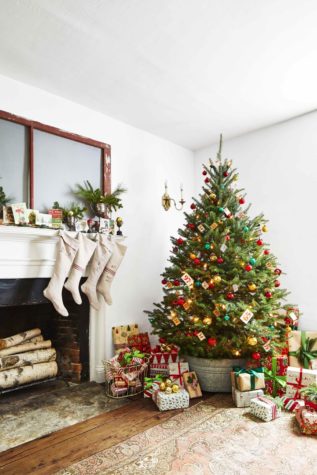 Christmas, for all its popularity today, was not celebrated until a couple centuries after the birth of Christ. Traditionally, Christmas is the celebration of the birth of Jesus, but the origin of Jesus' birthday on December 25th is unclear since no record exists of Christ's actual birth date.
Details regarding the birth point to the springtime as his actual birthday, but in 221, December 25th became the accepted date of his birthday. Eventually, Pope Julius I helped establish Christmas in the 4th century, likely to replace the celebration of the winter solstice that was popular prior to Jesus' birth, and was already celebrated as a symbol of rebirth as days began to lengthen.
As Christmas initially formed, it was widely celebrated with a specific liturgy in the ninth century. Today, Roman Catholic churches intend to maintain the integrity of these traditions by celebrating mass at midnight, while protestant churches hold candlelight services late on the evening of December 24th. 
As Christmas evolved, the practice of giving gifts was introduced in the 15th century, which began to morph the holiday's focus to family and friends. The traditional celebration of the Feast of Christmas reminds Christians of God's gift of Jesus.
As time passed, new traditions were incorporated into the holiday celebration. In the 17th century, the practice of decorating a fir Christmas tree with apples became popular. During this period, advent wreaths were placed on tabletops with four candles, which represented the four Sundays of the Advent season.
Some recent traditions of celebrating Christmas include singing Christmas carols like "Deck the Halls" and "We wish you a Merry Christmas." Many people also send Christmas cards, which began in England in 1840, and are sent with a picture of their family and a quick life update. These Christmas cards get sent to extended family and friends, and focused more on the familial connection of Christmas.
In the 21st Century, traditions have continued to expand as many countries celebrate Christmas differently. For example, in the Philippines, the Giant Lantern Festival is held annually on the Saturday before Christmas Eve in the "Christmas Capital of the Philippines," San Fernando. Everyone tries to pitch in and create the best lantern. Many lanterns have unique patterns including geometric shapes.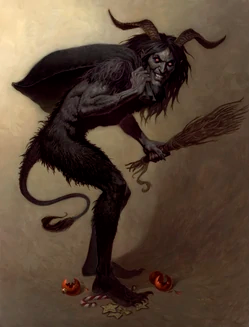 In Germany and Austria, everyone knows of the fabled Krampus, a beast-demon creature that roams the city streets frightening children. Krampus is St. Nicholas' evil accomplice. While St. Nicholas rewards kids for good behavior and other positive things, Krampus deals with the "naughty" children,putting them in his bag and taking them away. Young kids dress up as Krampus during the Christmas season scaring other children with chains and bells!
In Japan, Christmas is not as prominent as it is in some other countries, but Japan still takes part in gift-giving and light displays. Many believe that Christmas remains largely a novelty in the country. A recent Christmas tradition in Japan is eating Kentucky Fried Chicken (KFC) on Christmas Day. The KFC menu will soon be added to the KFC Japan website.
Christmas is a holiday that is evolved significantly through the centuries. Who knows how Christmas will look centuries from today? Whatever your style, enjoy a peaceful and happy Christmas this year!
---
Some Long Reach Students' Christmas Favorites
"
My favorite Christmas Tradition is "decorating the outside of my house with blow-up Santa Claus and the reindeer on the roof, also enjoying my mother's homemade lasagna.
— Autumn Blachowicz, Freshman
"
My favorite part of the holiday season is "being with family and seeing the joy on others' faces when they open one of the amazing gifts that I gave them!
— Taylor Slonac, Sophomore
"
Making Christmas cookies with my nana and decorating the house while listening to some Christmas music.
— Lauren Thomas, Senior