Melanie Martinez
October 11, 2021
Melanie Martinez is a singer, songwriter, actress, and director born in a family of Dominican and Puerto Rican descent. Martinez was first heavily recognized from her appearance on the wildly popular show The Voice season 3 in 2012. Early in her career she covered iconic songs such as Britney Spears's "Toxic" and Cee Lo Green's "Crazy," which gained her a great audience.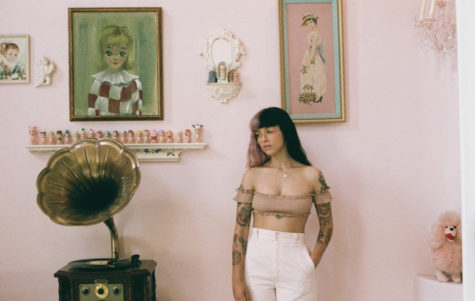 Born April 28 1995, in Astoria, Queens, Martinez was raised in Baldwin, New York. At a young age, she was heavily drawn to poetry and writing. Today, Martinez creates music that is well put together and for those who may find it relatable. Through her art, she expresses her childhood as sorrowful and emotional because of the limit that was placed upon her self-expression. 
Martinez released her first hit single "Dollhouse" in February of 2014, which gained popularity and led to the release of a true masterpiece of an album. In August of 2015, Martinez released her first studio album CRYBABY. The album had a music video for every song and told a story of events that happened in her childhood and illustrated these stories in great detail. 
The main themes of her music videos are usually inspired by events that happened in her childhood. Martinez created characters that were represented with contrasting and unique traits. This symbolizes the certain power of expression she had little control of when she was younger. Due to the truthfulness told about her life, this led to another reason for fans to fall in love with her music. 
Martinez released a full length album of 13 songs in September 2019, along with a movie to follow through the entire storyline. K-12 focused on her school life and spoke on current societal issues in a beautiful way.
---
References
Martinez, M. (n.d.). Instagram [Image]. The Voice Wiki. https://thevoice.fandom.com/wiki/Melanie_Martinez