Carmelo Anthony
October 11, 2021
Professional NBA player, 37 years old, 18 seasons in the NBA, and still going.
Carmelo Anthony was born in Brooklyn, New York, in 1984. Raised in Baltimore, Anthony became the No. 1 high school player in the country. The youngest of four children, Carmelo Kyam Anthony experienced a tragic childhood. When he was 2, his father, Carmelo Iriarte, died of liver failure, after which Anthony's mother worked as a housekeeper to care for her four children. Later, Anthony started to play basketball at a young age. When he became a sophomore, Anthony grew five inches and he brought to the court a good level of talent, making him a star.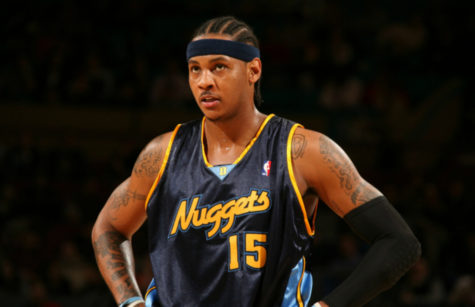 Eventually, Carmelo Anthony played for Oak Hill Academy, "a Virginia private boarding school with a strict disciplinary culture that has long catered to future National Basketball Association players," according to Biography.com. Although the shift from high school to college was hard, Anthony proved himself to be strong.
But, he wasn't ready to skip college, unlike players such as Lebron James and Kobe Bryant; he kept his commitment to Syracuse. He entered the school as a student in fall of 2002. At Syracuse, Anthony quickly adapted to the new game of college basketball. Then in spring of 2003, a great moment occurred. He and his team beat the University of Kansas 81-78–the Kansas Jayhawks were favorited to win, and their loss caused an upset. Anthony led all scorers with 20 points, while also collecting 10 rebounds.

Eventually, he had a promising season for a freshman player. Anthony was called the tournament's most outstanding player. After this, he was ready to go pro and declared himself available for the 2003 NBA draft.
In addition to declaring for the draft, he was drafted alongside Lebron James and Dwayne Wade. Biography.com reports that "during his 2003-04 rookie season, the 19-year-old Anthony was named to the All-Rookie team, averaging 21 points and six rebounds per game." As Anthony got older, he starred in the Olympics and eventually led them to multiple wins. In his professional career, he became the all-time leader in rebounds and games played.
After many trades since the start of his career in 2003, Carmelo Anthony may be on his final team for his NBA Career. He's now on a team with his best friend who was drafted: Lebron James. Together they both now play on The Los Angeles Lakers. Carmelo Anthony awaits his first taste of the NBA Finals and getting an NBA Championship.

---
References
Biography.com Editors. (2019, November 21). Carmelo Anthony. Biography.com. Retrieved September 9, 2021, from https://www.biography.com/athlete/carmelo-anthony.
Kaskey-Blomain, M. (2021, August 1). Tokyo Olympics: Kevin Durant passes Carmelo Anthony to become Team USA's all-time leading scorer. CBS. Retrieved September 9, 2021, from https://www.cbssports.com/nba/news/tokyo-olympics-kevin-durant-passes-carmelo-anthony-to-become-team-usas-all-time-leading-scorer/.