Shakira
October 11, 2021
International Latin pop star Shakira is unstoppable, with three Grammy Awards and a $350 million fortune. Shakira was born on February 2nd, 1977 in Barranquilla, Colombia.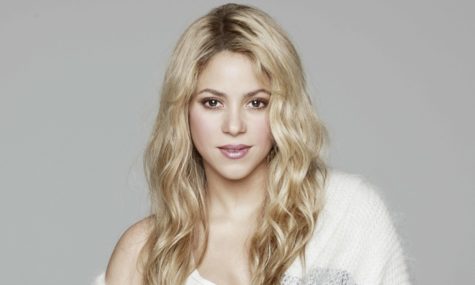 The Colombian native rose to fame when she was only thirteen, with her debut album Magia (Magic) in 1991. The star said in a 2002 Faze interview, "I am a fusion. That's my persona. I'm a fusion between black and white, between pop and rock, between cultures- between my Lebanese father and my mother's Spanish blood, the Colombian folklore and Arab dance I love and American music." Shakira's Latina heritage is represented through her music, with songs in both Spanish and English. 
Shakira's journey to worldwide fame began with a rough start. At ten years old, her music teacher banned her from the school choir, and her classmates thought she sounded like a goat. "When I was probably 10 years old I wanted to be part of the school choir so badly, and my music teacher, the schoolteacher, didn't want me to because he thought that my voice was too dissonant or something. So he never let me in the choir," Shakira said in a 2016 Insider interview.
If Shakira had let the discouraging words from her teacher and classmates stop her, she wouldn't have gone on to become a star on the Hollywood Walk of Fame, or win 39 Billboard Latin Music Awards. It was her father who at that time encouraged her not to give up on her music. 
By 2001, Shakira had won her first Grammy award for Best Latin Pop Album for her record MTV Unplugged. This live performance album included a collection of ten songs in Spanish. 
Shakira has used her success to give back to her native Columbia by creating the Pies Descalzos Foundation. This cause helps young children who have been dislocated by dangers and violence in Colombia. The Pies Descalzos Foundation has shown tremendous success, having built two schools in Barranquilla and Cartagena, increasing access to education with adequate spaces for learning and to over 50,000 Colombian children. 
Aside from creating a foundation to help Colombian children and producing work that honors her cultural roots, Shakira has also celebrated and represented Hispanic culture by performing in the 2020 NFL halftime show that celebrated Latin culture. Shakira said, "I think that this time around it [the Super Bowl Halftime Show] also has a very important purpose, and that is to celebrate the Latin culture, to showcase it in a country where Latinos have also struggled a lot." It's important to Shakira that she uses her platform to be a strong role model for Latinos all around the world.
---
References 
ETCanadaOfficial. (2019, November 6). Shakira Talks Latino Tribute at 2020 Super Bowl. YouTube. Retrieved September 17, 2021, from https://www.youtube.com/watch?v=fX3CEXIp5Cw  
Jacobs, J. S. (2002, November 6). Shakira. Popentertainment.com: Shakira interview. Retrieved September 21, 2021, from http://www.popentertainment.com/shakira.htm. 
Editors of Encyclopaedia Britannica. (n.d.). Shakira. Encyclopædia Britannica. Retrieved September 10, 2021, from https://www.britannica.com/biography/Shakira.  
Shamsian, J., & Pineda, C. (2016, March 18). Shakira's teacher told her she had a bad voice and banned her from the school choir. Business Insider. Retrieved September 21, 2021, from https://www.businessinsider.com/shakira-banned-from-school-choir-2016-3. 
Harrison, F. (2021, August 16). Shakira [Photograph]. Quien. https://www.quien.com/espectaculos/2021/08/16/shakira-video-hablando-en-portugues-que-se-hizo-viral
YouTube. (2012). Shakira- Bare Feet, White Dreams (Video). YouTube. Retrieved September 22, 2021, from https://www.youtube.com/watch?v=eCna-hsmGUY.