Lionel Messi
October 6, 2021
One of the most common arguments in sports is: Who is the best soccer player of all time? One of the top candidates is Argentinian Lionel Messi.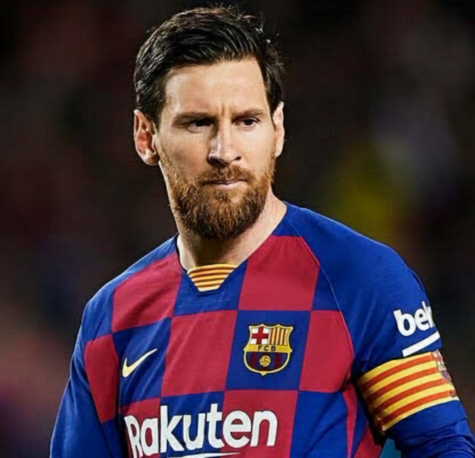 Lionel Messi was born on June 24th, 1987 in Rosario, Argentina. When he was young, he was diagnosed with growth hormone deficiency, resulting in him only being 5'7 today. 
On October 6th, 2004, he made his debut in the Catalan Derby vs Espanyol at seventeen years old. His Argentine teammate Maxi Rodriguez said, "I was amazed by his skill and natural ability. He stared down his opponent so naturally and that really caught our attention given his age. Messi was never afraid to face his opponent. What stood out about Messi then is what stands out now: He makes everything look easy." 
Messi was the youngest player to ever score a goal for Barcelona. At seventeen years old, he scored the goal on May 1st, 2005 in a 2-0 victory against Albacete in the 87th minute. Two weeks later, Barcelona won the La Liga title for the first time since the '98-99 season.
In June 2005, Barcelona offered him a five-year contract worth 150 million dollars. In September of the same year, they offered him an extension that lasted until 2014. In 2006, Inter Milan offered him a 467 million dollar deal to leave Barcelona. But ultimately, he decided to stay. He then earned a new contract which was worth up to 132k dollars a week with Barcelona. 
And all of this before he turned twenty years old. 
In September 2009, Messi earned his sixth contract since 2004 worth 365 million. The Ballon d'Or was the trophy given to the best soccer player in the world, and in 2012, Messi had become the second player to win it three times in a row. He then went on to win it for the fourth time the following year. 
He has won a total of six Ballons d'Or, 36 trophies for Barcelona in 16 seasons, scored over 600 goals, won 22 scoring titles across multiple leagues and tournaments, won nine time player of the year in La Liga, earned player of the year in UEFA Champions League once, four Champions League wins, is a seven time Spanish Cup winner, ten time Spanish Champion, three time Club World Cup winner, eight time Spanish Super Cup winner, has three UEFA Supercup wins, and one Olympic gold medal. Most recently, he has led Argentina to a Copa America title, which is Messi's first major international title with Argentina. 
Recently, he has signed a two year, 104 million dollar contract with PSG in the French league, Ligue 1. Today, there is one thing he still has not accomplished yet and it would make his career complete:
"I would trade all my personal achievements just to win the World Cup with the national team," Messi said in a short biography. Many fans won't consider his career complete until then.
---
References
Marsden et al. (n.d.). Messi at Barcelona: The Ultimate History.ESPN. Retrieved September 10, 2021, from https://www.espn.com/espn/feature/story/_/id/31422137/lionel-messi-career-barcelona-contemplates-leaving.
Leo Messi Biography. (n.d.). Messi.com. Retrieved September 10, 2021, from https://messi.com/en/biography/. 
#30 Lionel Messi. (n.d.). Transfermarkt. Retrieved September 10, 2021, from https://www.transfermarkt.us/lionel-messi/erfolge/spieler/28003.
Goldberg, R. (n.d.). Lionel Messi, PSG Agree to 2-Year, $104M Contract After Barcelona Exit. Bleacher Report. Retrieved September 10, 2021, from https://bleacherreport.com/articles/2947025-lionel-messi-psg-reportedly-agree-to-2-year-88m-contract-after-barcelona-exit.