Cesar Chavez
October 10, 2021
Cesar Chavez, a Mexican-American labour and civil rights activist, led a historical movement to raise wages and  improve working conditions for farmers in the 60's and 70's.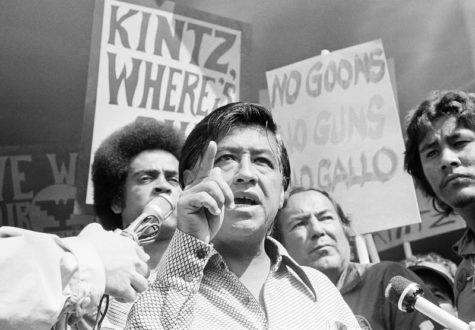 Just a few examples of this abuse are a median wage of only $28,629 a year (adjusted for inflation), a lack of water during their workday, and even lacking the ability to use the bathroom during work hours.
In 1962, Chavez founded the National Farm Workers Association (NFWA) after having trouble forming a farmer's union. Chavez, inspired by the non-violent techniques of other civil rights leaders such as Mahatma Gandhi and Martin Luther King Jr., fought peacefully for the rights of farmers for years.
In the late 1960's, joined by another civil rights advocate named Larry Itliong, Chavez called for the boycott of grapes. The fruit, popular in California at the time, had an industry filled with abuse, miniscule pay, and horrid work conditions. Utilising non-violent tactics, five years of protest paid off, ending in a collective bargaining agreement.
"
"If you give yourself totally to the nonviolent struggle for peace and justice you also find that people give you their hearts and you will never go hungry and never be alone." "
— Cesar Chavez
Chavez proved to be a man always fighting for the rights of workers, a man who stuck out a strike until the fruits of his labour were realised.
In the profound words of Chavez, "The fight is never about grapes or lettuce. It is always about people." 
---
References 
History.Com Editors. (2021, February 8th). Cesar Chavez. HISTORY. Retrieved September 14, 2021, from https://www.history.com/topics/mexico/cesar-chavez. 
Janos, A. (2021, January 22). How Cesar Chavez Joined Larry Itliong to Demand Farm Workers' Rights. HISTORY. Retrieved September 14, 2021, from https://www.history.com/news/chavez-itliong-delano-grape-strike.