Cardi B
October 10, 2021
Rap star, actor, TV producer, and internet celebrity. With her quirky and unfiltered personality, Cardi B. first gained attention on social media and peaked to a life of fame, fashion and music.
Cardi B. is most known for her social media status, music and fashion. For a living, she pursues her career of rapping, acting and designing clothes. Born in New York City, she gained fame through social media for her outgoing personality and viral videos before she decided to follow her dream of a love for music and fashion.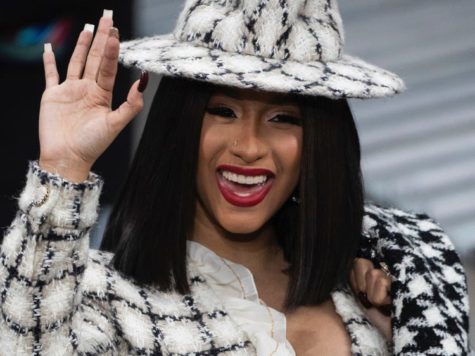 Belcalis Almanzar, known professionally as Cardi B, was born on October 11th, 1992. Born from a Trinidian mother and a Dominican father, she spent most of her time with her paternal grandmother. She gives her grandmother credit for her accent. Almanzar, who grew up in Washington Heights, was constantly surrounded by family.
At 19 years of age, Almanzar became a stripper. For her, stripping was a way out, to escape poverty and the abusive relationship she had at the time. She began gaining popularity through social media from a number of her videos going viral in 2013. These mostly consisted of instagram videos of Almanzars rants about numerous topics. In 2015, she began publishing music. From then on, she has gained numerous awards and records through her love and passion for rapping.
Almanzar came as far as to dethrone Beyonce twice, once for landing thirteen songs on the Billboard Hot 100 chart, and again for having the most simultaneous Billboard R&B/Hip-Hop Hot 10 entries, with five songs. She's also set the record for most first-week plays for a female artist on Apple Music, surpassing Taylor Swift with 100 million streams. Additionally, she is the first person of Dominican descent to reach number one in the history of the Billboard Hot 100.
Almanzar is most famous for her fashion design and rap, holding countless records for her passion. Despite all that, her journey to get where she is now was an unexpected one. Before fame, things were totally different in comparison. Thanks in large part to her "no filter attitude," Cardi B. embodies the realization of the digital new-age dream of many Americans: climb the ranks of social media to stardom.
---
References
Shamsian, J.; Singh, O.. (2019, September 10). The Fabulous Life of Cardi B, from stripper to chart-topping rapper. Insider. Retrieved September 10, 2021 from https://www.insider.com/who-is-cardi-b-bodak-yellow-2017-9
Herrera, I. (2017, September 25). Cardi B becomes the first person of Dominican descent to reach no. 1 on the Billboard hot 100. Remezcla. Retrieved September 12, 2021 from https://remezcla.com/music/cardi-b-dominican-no-1-billboard-hot-100/#:~:text=Cardi%2C%20born%20Belcalis%20Almanzar%2C%20is,it%20was%20launched%20in%201958.
Cardibofficial. (n.d.). Cardi Bio. Retrieved September 13, 2021 from https://www.cardibofficial.com/bio#:~:text=Belcalis%20Almanzar%2C%20known%20professionally%20as,an%20Internet%20celebrity%20through%20Instagram.
Liu, A. (2018, May 23). How cardi b used social media to take over the world. Truly. Retrieved September 25, 2021 from https://medium.com/truly-social/how-cardi-b-used-social-media-to-take-over-the-world-702655ea8cbe
RapTV. (2020, July 31). What is cardi B's real name?. Retrieved September 25, 2021 from https://raptv.com/q-and-a/what-is-cardi-bs-real-name/
Global Women's History. (2021, January 20). October 11, 1992. Retrieved September 25, 2021 from https://globalwomenshistory.com/2018/06/03/october-11-1992/
Decker, M. (2021, March 3). You definitely didn't know these fun facts about cardi b. Harper's BAZAAR. Retrieved September 26, 2021 from https://www.harpersbazaar.com/celebrity/latest/g20634894/cardi-b-trivia-facts/?slide=39