Kali Uchis
October 6, 2021
From millions of YouTube views to a Latin Grammy and Soul Train Music Award for Best New Artist nomination, singer/songwriter Karly-Marina Loaiza, better known as Kali Uchis, was born in Alexandria, Virginia to Colombian Immigrants. She was raised in Columbia until her family moved to the U.S. to escape civil violence.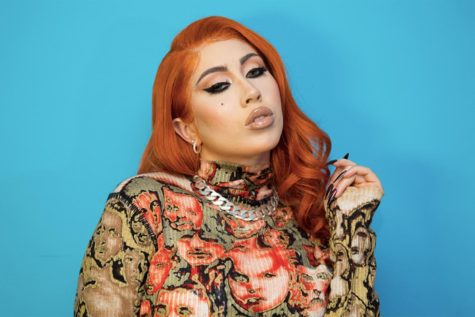 Uchis started her music journey in her senior year of high school. After dropping her first album Isolation in 2018, Uchis started gaining a following with new fans and other artists. Two years later, Uchis released Sin Miedo. Uchis sings in English and Spanish on both albums, integrating her Colombian background into her musical style, which flows from R&B to reggaeton, pop and soul, and sometimes a little funk. 
At seventeen, Uchis experienced living on her own for the first time. Her parents kicked her out due to her behaviors of missing curfew and skipping school. She lived in her car and worked at a grocery store to make money. 
Today, Uchis spends more time considering who to collaborate with on music instead of where her next paycheck will come from. She has created songs with Tyler the Creator, BIA, Daniel Caesar, Rico Nasty, and Kaytranada to name a few. Uchis told the Rolling Stone, "I'm very selective about who gets on the same song as me, and whose song I get on. But when it comes to production, I really like to work with different people, because I'm still looking for that one person to work on my next album with." 
At just 24 years old, Uchis has been nominated twice for the Grammys. Along with her love of music, she also has a love for fashion. You will most likely catch Uchis in fuzzy, colorful, bold clothes that set her apart from other artists.
In a "Loud and Quiet" interview, the interviewer says, "Despite the chaos, the noise, the constant comings and goings, Kali led a relatively introverted upbringing. …While her brothers were busy playing with friends their own age, she was left to entertain herself. That's where music came in." I too relate to Uchis. I also grew up introverted and I am still an introvert. I also had music to keep me company growing up. 
Uchis has dropped many songs over her career and has received a lot of criticism, good and bad. Uchis remains humble and never forgets where she came from and how she got where she is today.
"Not everything happens when you expect it; it is what it is. The people who ride with you, ride with you." -Kali Uchis
---
References
Cochrane, G. (2017, July 7). Without a humble childhood in a small city in Colombia, Kali Uchis wouldn't be questioning just how big she wants to be. 
https://www.loudandquiet.com/interview/without-a-humble-childhood-in-a-small-city-in-colombia-kali-uchis-wouldn't-be-questioning-just-how-big-she-wants-to-be/ . 
Escarce, A. (2021, May 25). How I made it: Kali Uchis. Futuro Media Group.
https://www.latinousa.org/2021/05/25/kaliuchis/
Exposito, S.  (2018,  July 24).  Pop Loner Kali Uchis on Growing Up Punk in Colombia and the Struggle to Stay Bilingual. "Rolling Stone."
https://www.rollingstone.com/music/music-latin/kali-uchis-isolation-colombia-interview-2018-700772/ 
Savage, M.  (2018,  August 1). How Kali Uchis went from living out of a car to pop stardom. BBC.