Sofia Vergara
October 10, 2021
"I didn't want to be an actress. I wanted to be a dentist, but you never know what life will bring you."
-Sofia Vergara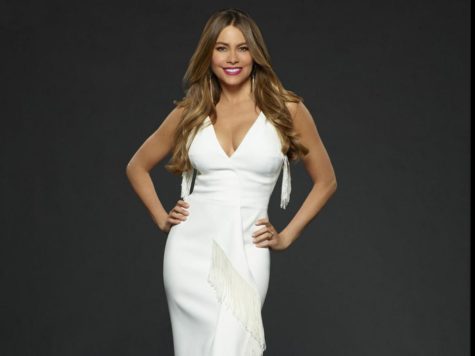 Sofia Vergara, a Colombian actress, was scouted on a beach when she was seventeen. Now, years later, she's considered by Forbes to be the world's highest paid actress, due in large part to her famous role on Modern Family. A four time Emmy nominee, she has her own star on Hollywood's Walk of Fame. At age 49, she is still in the public eye as a judge in the 15th season of America's Got Talent, and she has worked in numerous other projects, such as the 2017 film, The Emoji Movie. Vergara's success has led her to expand with her own line of jeans, perfumes, and furniture. 
If you recognize Vergara, it is probably from her role as Gloria on Modern Family. Gloria is portrayed with a "loud, outspoken attitude," and with her thick Colombian accent, she is often accused of portraying a stereotype of a Latina woman. However, Vergara responds to such criticisms that the vivacious character is based off of the women in her life, going on to say that Gloria was a loving person, and she would be a "magnificent stereotype." She also touches on how she is a Latin woman with her heavy accent, which some might consider a risky casting choice, but the show is wildly popular and winning awards, highlighting the slow but steady process in the fight for more diverse casting.
But life hasn't always been perfect for Vergara. In 2000, when she was only 28, she was diagnosed with thyroid cancer, which she kept from the public until 2011, wishing to avoid the media circus that would accompany the announcement. As it was discovered fairly early, her treatments went well, although she will take daily medication for life as a result of having her thyroid removed. And as a cancer survivor, she likes to help pay things forward. 
During the 2021 telecast Stand Up To Cancer, Vergara spoke more on her experience and helped raise awareness, along with a lot of money. This year's event raised over $143.18 million in pledges, with more to come thanks to Vergara's new initiative. Bid 2 End Cancer, with contributions from MLB and MLB clubs through Heritage Auctions, is a series of auctions for various sports related items. The event is continued through October 25th, with the exclusive prize of throwing a first pitch at a World Series Game. 
Sofia Vergara is a key example of how life is all about the unexpected, but taking risks and stepping out of your comfort zone can turn out well down the road. Thus far, Vergara has used her position in the public eye to be a strong, charitable role model, and will continue to be as her career continues. 
---
References
Heritage Auctions. (n.d.). Bid 2 End Cancer. Heritage Auctions. Retrieved September 17, 2021, from https://www.ha.com/information/bid-to-end-cancer.s?type=surl-standup. 
McRobert, F. (2021, August 23). Stand Up to Cancer Raises More Than $143.18 Million in The U.S. and Canada in Connection With its Seventh Biennial Roadblock Telecast and Streaming Event. Stand Up To Cancer. Retrieved September 17, 2021, from https://standuptocancer.org/press/stand-up-to-cancer-raises-more-than-143-18-million-in-the-u-s-and-canada-in-connection-with-its-seventh-biennial-roadblock-telecast-and-streaming-event/. 
Baggio, G. (Ed.). (2021, September 4). Gloria Pritchett. Modern Family Wiki. Retrieved September 17, 2021, from https://modernfamily.fandom.com/wiki/Gloria_Pritchett.
Carragher, P. (2021, August 27). Sofia Vergara opens up About thyroid cancer diagnosis. Moffitt Cancer Center. Retrieved September 17, 2021, from https://moffitt.org/endeavor/archive/sofia-vergara-opens-up-about-thyroid-cancer-diagnosis/.
IMDb.com. (2021). Sofía Vergara. IMDb. Retrieved September 17, 2021, from http://www.imdb.com/name/nm0005527/.
Rodríguez, F. (2008, March 20). Sofía Vergara Stars in "Meet The Browns," Strives for a Lead Role. nydailynews.com. Retrieved September 17, 2021, from http://www.nydailynews.com/latino/sofia-vergara-stars-meet-browns-strives-lead-role-article-1.289376.
Wagmeister, E. (2021, May). Sofia Vergara: The Businesswoman Behind a Beloved Sitcom Star. Variety. Retrieved September 17, 2021, from https://variety.com/2021/tv/features/sofia-vergara-modern-family-americas-got-talent-1234965559/#!  
Augustyn, A. (2021, July 6). Sofía Vergara. Encyclopædia Britannica. https://www.britannica.com/biography/Sofia-Vergara. 
Forbes Magazine. (n.d.). Sofía Vergara. Forbes. https://www.forbes.com/profile/sofia-vergara/?sh=54a76d5269ef.