Roberto Clemente
October 10, 2021
Take some time to acknowledge the life of the most outspoken advocate, a determined leader, hardworking, and the most ideal man in baseball history: Roberto Clemente. Many may not be familiar with Clemente, but for those that are, they will be able to tell you a variety of heart-touching stories.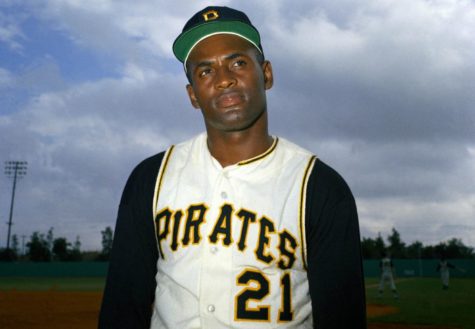 Roberto Clemente was a professional baseball player who played for the Pittsburgh Pirates. NBC News reports: "Clemente collected 3,000 hits during his 18-year career while helping the Pirates win a pair of World Series titles." According to newyorklatinculture.com, his career ended at 34 when he and four others boarded a cargo plane that crashed off the coast of Puerto Rico. The plane went down due to engine failure and the remains of Clemente and the other passengers aboard were never found. Clemente´s mission was to bring a load of supplies to the survivors of an earthquake in Nicaragua, but he could not complete it. Today, the only people permitted to wear his jersey number, 21, in the MLB would be his three children.
Clemente was determined to help the people in Puerto Rico and he would achieve his goal by building a recreational center for the poor, so that they could have a chance to learn about sports, common interests, and learn good personal values. 
What's left to question is what more Clemente could have achieved if his life wasn't shortened. We do know that he was supportive, genuine, pure, outgoing, determined, and wanted the best for everyone no matter what their situation was. These traits make his shortened life carry an even more impactful legacy. 
"Any time you have an opportunity to make a difference in this world and you don't, then you are wasting your time on Earth." – Roberto Clemente
---
References 
Jamail, M. (2021). Roberto Clemente. Britannica. www.britannica.com/biography/Roberto-Clemente
Diamond, T. (2014, Jan 3). Roberto Clemente: Sports' Most Charitable Legend. The Borgen Project. https://borgenproject.org/roberto-clemente-sports-charitable-legend/