Madison Reyes
September 23, 2021
In today's day and age of entertainment, it is relieving to see more and more representation of diversity in film and television. Representation for all individuals allows our country's youth to derive belongingness and inspiration from a new wave of talented actors and actresses. Madison Reyes is one of the many role models for young and teenage Hispanic-American girls.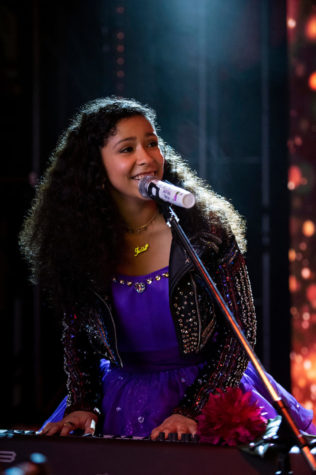 The talented 17 year old actress and singer-songwriter booked her breakout role of Julie in Julie and the Phantoms just last year in September 2020. 
Reyes grew up watching other Kenny Ortega productions such as the High School Musical Trilogy. "'I loved watching these kids sing and dance around their school,' recalled Reyes. 'I was like, 'I want to do that! What school I gotta go to to do that?!'" Her fascination and allure with acting, singing, and dancing drew her to seek elsewhere for a career in acting. 
Reyes was born on June 25, 2004 to a Puerto Rican-American family in Brooklyn, New York, where she lived until she and her family moved to Allentown, Pennsylvania, for more opportunities to pursue an acting career. She attended Trexler Middle School, where she signed up for the school play of Aladdin. It was after her first performance that "something clicked. 'I realized this is something I want to do,' she [Reyes] says. 'I realized I wanted to commit to this.'" A few years later she would attend the Lehigh Valley Charter High School for the Arts in Bethlehem. 
It was here Reyes would hear about a casting call for Julie and the Phantoms. It was at the end of her freshman year that she would fly out to Los Angeles. At just the age of 14, Reyes was selected from more than 700 other auditions for the part. Fast forward to an MTV award, a nomination for a Daytime Emmy Award, and a new hit song. Reyes is a sensation. She has proved to be an extremely talented actress, singer, and dancer. She is a triple threat and fans are full of excitement to see what else she has in store!
---
References
Lee, A. (2020, September 10). Puerto Rican teen Madison Reyes is about to be a Netflix star. Yes, she's 'Scared.' Los Angeles Times. https://www.latimes.com/entertainment-arts/tv/story/2020-09-10/netflix-julie-and-the-phantoms-madison-reyes