Dolores Huerta
A woman who has advocated for the women, children and the working poor since she became a feminist at an early age.
October 10, 2021
Huerta was born to Hispanic parents, Alicia Chavez and Juan Fernandez, on April 10, 1930. Huerta served a leadership role in Stockton Community Service Organization (CSO) where she met César E. Chávez. The two were great partners but were notorious for getting into heated arguments; she was considered to be "the greatest thorn in his side." After working for CSO, they came to the conclusion that the CSO's mission did not align with their vision of organizing farm workers. They both soon resigned and created the National Farm Workers Association in 1962.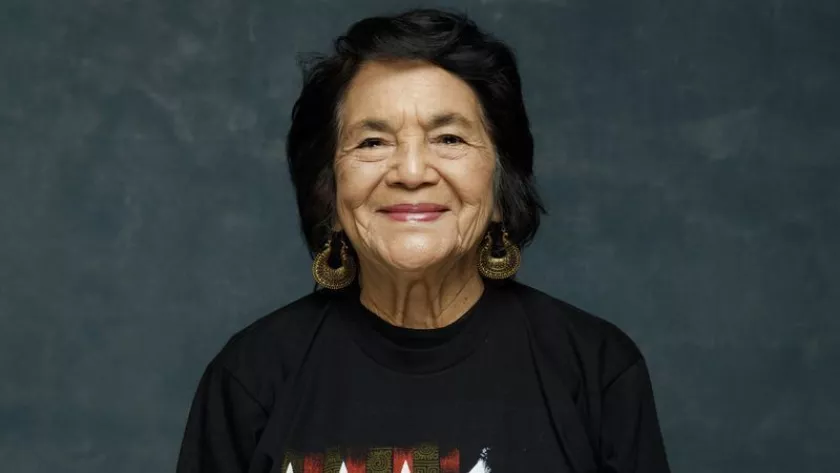 Huerta secured many things for the working class like Aid For Dependent Families (AFDC), disability insurance for farm workers in California in 1963, and was involved in the enactment of the Agricultural Labor Relations Act of 1975. Huerta became one of the UFW's most known speakers. 
Huerta was adamant about non-violence protesting; at 58-years-old, she was assaulted while peacefully protesting against the policies of George Bush. She suffered life-threatening injuries which resulted in her taking a leave of absence. At this time, she began to focus more on women rights. Under the Feminist Majority Feminization of Power, she traveled the United States for two and a half years. Additionally, she participated in the encouragement of Latinas to run for office in the 2020 Campaign. Huerta continues to speak up for the working poor, women and children and continues to help people become the leaders they are today.
"Every moment is an organizing opportunity, every person a potential activist, every minute a chance to change the world." -Dolores Huerta
---
References
Michals, D. (2015). Dolores Huerta. National Women's History Museum.  Retrieved September 10, 2021, from https://www.womenshistory.org/education-resources/biographies/dolores-huerta
Dolores Huerta Foundation 2021. (2019). Dolores Huerta. Retrieved September 10, 2021, from https://doloreshuerta.org/doloreshuerta/