Lin Manuel Miranda
October 6, 2021
Lin Manuel Miranda is an American actor, lyricist, composer and writer most famous for his role in the musical Hamilton. 
Manuel Miranda was born to parents from Puerto Rico in New York City. His parents were both successful, his mother a psychologist and his father a consultant to the New York City Mayor. Miranda grew up in a musical family; both he and his sister took piano lessons, and he eventually became interested in hip-hop and formed a hip-hop group. He first saw a musical at age seven, Les Miserables, which made a lasting impression on him and inspired him to pursue a career in theatre.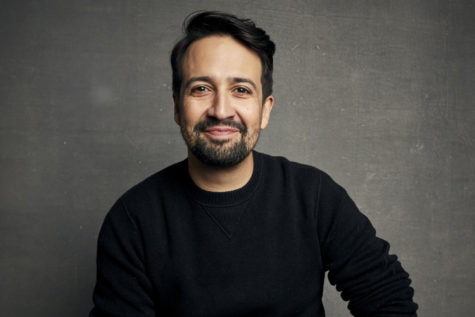 After studying theatre in high school and college, he started to appear in films, TV shows, and Off-Broadway productions. Miranda wrote In the Heights, which Long Reach High School performed a few years ago. In the Heights (2008) incorporated the setting of Miranda's upbringing and the salsa and hip-hop prevalent in his home and neighborhood. The musical won two Drama Desk awards and also won four Tonys after debuting on Broadway. 
Miranda's most recent impact in the world of theatre is his most famous show, Hamilton, which released in 2016, featuring a diverse cast and mix of modern and classic styles. The musical documents Alexander Hamilton's life is critically acclaimed for its unique hip-hop style mixed with a classic, musical style. Britannica reports that in Hamilton's story, "Miranda saw a quintessential American story, one that he perceived as akin to the humble beginnings of rappers." 
The show nearly broke the record for most Tonys, falling one short of the record with eleven Tonys. It also won the Pulitzer prize in drama and seven Olivier awards in Britain. Most recently, Miranda also had a career with a hip-hop group, Freestyle Love Supreme, which performed on Broadway in 2019-2020.
Miranda has also been active in rebuilding Puerto Rico after hurricane Maria and is active in political discussions. He started the Flamboyan Arts Fund, a non-profit to help Puerto Rico recover from Hurricane Maria. Miranda is now starring in a TV series, His Dark Materials (2019-). He also starred in Mary Poppins Returns (2018). He is married to scientist and lawyer Vanessa Nadal and together they have two kids. 
To those belonging to the theater world or not, Miranda says, "You are perfectly cast in your life. I can't imagine anyone but you in the role. Go play."
---
References
Murray, L. (2021, June 15). Lin-Manuel Miranda. Encyclopedia Britannica. Retrieved September 14, 2021 from https://www.britannica.com/biography/Lin-Manuel-Miranda
Haynes, C. (2016, April 14). Lin-Manuel Miranda Biography. Biography.com.
Retrieved September 14, 2021 from https://www.biography.com/writer/lin-manuel-miranda