Alexandria Ocasio-Cortez
September 20, 2021
Time Magazine calls her "America's lightning rod." Vanity Fair calls her "history-making." … Just who exactly is Alexandria Ocasio-Cortez?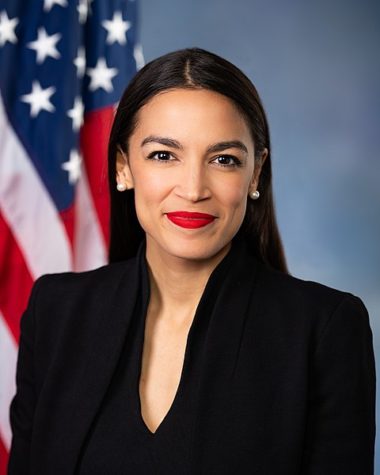 Advocating for income equality and social, racial, environmental and economic injustices, Congresswoman Alexandria Ocasio-Cortez is a Democratic Puerto Rican American politician and activist. She has represented New York's 14th congressional district since 2019, and she is widely recognized by her initials, AOC.
Born in the Bronx, New York on October 13, 1989, she was quickly made aware of the harsh reality that though "all men are created equal" according to the Declaration of Independence, not all people are given equal opportunity, pay, or even treatment in the United States on the basis of factors one can't control— sex, ethnicity, class, etc.
It was then that she knew she couldn't sit idly by.  But before she had the chance to act, tragedy struck her family as her father, Sergio Ocasio-Roman, passed away September 8, 2008, after battling cancer.  He passed just after the The Global Financial Crisis of 2007-2008, which was considered by many economists, prior to the 2020 COVID-19 Recession, to be the most serious financial crisis since the Great Depression.
Without Ocasio-Roman as a second source of income, the financial crisis forced his family to sell their home in Westchester.  Ocasio-Cortez found jobs as a waitress and bartender to support her family in their time of need, which added a deeper sense of understanding and a stronger sense of commitment to her advocacy that working-class people face.
But her position as a congresswoman didn't make the issues that Ocasio-Cortez faces disappear.  She still fights against discrimination on the basis of sex, ethnicity, and class in her professional setting.
Congressman Ted Yoho, representing Florida's third congressional district, called her "crazy" and continued to degrade her through abusive swears when he presumed she was out of earshot according to BU Today.
She published her response: "In using the language in front of the press, he gave permission to use that language against his wife, his daughters, women in his community, and I am here to say that is not acceptable."
Since she took office on January 3, 2019, Ocasio-Cortez has participated in climate change protests, drafted and proposed a Green New Deal, and was a key speaker in the 2019 Women's March, according to Mitú.
As promised, Ocasio-Cortez has stayed dedicated to her advocacy against the injustices within the United States.
 "This nation is never beyond remedy, it is never beyond hope, it is never too broken to fix." – Alexandria Ocasio-Cortez