Pitbull
September 23, 2021
Mr. Worldwide, king of the club boom, greatest artistic icon we mortals don't deserve the privilege of having on this Earth. Whatever moniker he chooses, like him or not, you cannot deny that the image Pitbull built for himself is one of the most recognizable of our lifetime.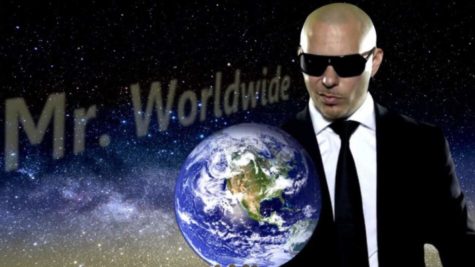 Armando Christian Pérez was born on January 15th, 1981. He grew up in Miami, Florida and his nationality is of Cuban descent. In his music, he frequently brings up the value of hard work. It's fitting for him because he grew up as a teenage drug dealer, and has progressed through obstacles starting in childhood to his current status.
The world learned his name in 2009 with his breakthrough hits "Hotel Room Service" and "I Know You Want Me (Calle Ocho)," but his music career actually began in 2001. After being signed to the Luke Records label, he became a feature on the Lil Jon album Kings of Crunk and collaborated with many other (surprisingly recognizable) rappers. Pitbull released two albums before he became a superstar: El Mariel and The Boatlift and Pitbull Starring in Rebelution and Armando.
From the beginning, his lyrics were all about partying and sex, but also about hustling, the value of time, and celebrating your successes. The opening lines of his Billboard #1 hit with Ne-Yo, "Give Me Everything," makes this clear in the most artistic and profound way:  "Me not working hard? / Yeah, right, picture that with a Kodak / Or better yet, go to Times Square / Take a picture of me with a Kodak."
In all seriousness, Pitbull is an icon because of how he markets himself to appeal to Latinos pursuing the American dream. He's proud of being rich and classy while always embracing his Hispanic heritage. The story of his rags-to-riches rise to fame gives his lyrics all the more meaning: "Reach for the stars / And if you don't grab 'em, at least you'll fall on top of the world."
Even though his popularity has declined since party music went out of style, we will always cherish the nostalgia that comes with those good times. Today, Pitbull aims to make a difference in the lives of children, especially those who face similar adversities as he did in his youth. 
Pitbull's parents fled from Cuba and they grew up poor. The education system was never kind to him because of this, and he never graduated high school. In the last decade, he has been using his name to make a positive impact in the lives of children who grew up with similar unfortunate circumstances. He opened a charter school in Miami called SLAM (Sports Leadership and Management Academy). "[A] lot of these kids are so creative, but no one believes in them. No one motivates them," he says. "I relate to them… but then I give it to them raw."
For those going through their own struggle, Pitbull identifies with you and shares some hope. And if we ever get stuck in that past, it's easy to ride back up when looking at how much he embraced the present with lines like these:
"This for everybody going through tough times

Believe me, been there, done that

But everyday above ground is a great day, remember that."

-Pitbull, Ne-Yo "Time Of Our Lives" 2015
---
                                                                                        References
Pitbull. Billboard. (n.d.). Retrieved September 9, 2021, from https://www.billboard.com/music/pitbull.
Armando Christian PÉREZ P/K/A "PITBULL". Armando Christian Pérez p/k/a "Pitbull" | Songwriters Hall of Fame. (2017). Retrieved September 10, 2021, from https://www.songhall.org/awards/winner/pitbull. 
Ojito, M. (2006, December 3). Can't pin him down. The New York Times. Retrieved September 10, 2021, from https://www.nytimes.com/2006/12/03/fashion/03nite.html. 
Pitbull songs, ALBUMS, reviews, bio & more. AllMusic. (n.d.). Retrieved September 10, 2021, from https://www.allmusic.com/artist/pitbull-mn0000350685 
Archive-Chris-Harris. (2005, August 16). Labels fighting over music pitbull made when he was a puppy. MTV News. Retrieved September 10, 2021, from http://www.mtv.com/news/articles/1507698/labels-fighting-over-pitbulls-early-work.html. 
Vozick-Levinson, S. (2018, June 25). Pitbull's global hustle can't be stopped. Rolling Stone. Retrieved September 10, 2021, from https://www.rollingstone.com/music/music-news/pitbulls-global-hustle-cant-be-stopped-181970/.
Sanchez, C. (2013, October 15). Is Pitbull 'MR. Education'? Rapper Opens charter school In Miami. NPR. Retrieved September 13, 2021, from https://www.npr.org/sections/codeswitch/2013/10/15/234683081/is-pitbull-mr-education-rapper-opens-charter-school-in-miami.