Dwayne "The Rock" Johnson
May 26, 2021
Dwayne Johnson, famously known as "The Rock," is an American actor, producer, retired professional wrestler, former American and Canadian football player, and the list goes on. 
Johnson's rigorous work ethic is a motivation for many people across the globe, and he is a role model for many young people. His road to fame wasn't easy though; Johnson experienced many setbacks, but he continues to evolve, paving the way for other Asian Americans.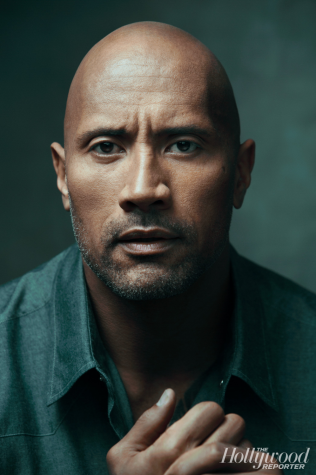 Even before Johnson was born, he was destined to be the great star that he is today. The third-generation wrestler was born in Hayword, California with strong Samoan descent. Johnson's grandfather was a professional Samoan wrestler named Peter "High Chief" Mavia. Growing up, Johnson was always strong-willed and passionate about fitness with boxing, running track, and pursuing football. Senior year he was sent to the USA Today's high school All-American team. Unfortunately, he suffered from a back injury which led to depression, and him being put on academic probation with a 0.7 GPA.
Although Johnson got injured in his senior year and wasn't able to play in the 1995 NFL draft he was drawn for, he took an offer from the Calgary Stampeders, but was let go to make room for another player. "That was hard," he told Zondra Hughes of Ebony. "I was supposed to be reaping the fruits of my labor, and there I was in Canada having to start all over again."
Johnson got his big break in 1996 when he made his professional wrestling debut. He grew to fame fairly quickly, becoming a household name in the WWF (World Wrestling Foundation), and won his first WWE Championship. The Bleacher Report states, "November 15 marked the 21st anniversary of The Rock's alignment with Vince and Shane McMahon to win his first WWE Championship victory in the final of the Deadly Game tournament at the 1988 Survivor Series." 
Johnson then began acting while he was still a part of the WWF, starring in Walking Tall (2004) and Be Cool (2004).  Johnson told Hughes, "I want to do more in the WWF. I want to do more in the movie industry. Ultimately, I want to be the most electrifying man in sports entertainment, period."
---
References
Dwayne 'the Rock' Johnson Biography. (n.d.) Encyclopedia of World Biography. Retrieved April  30, 2021 from www.notablebiographies.com/news/Ge-La/Johnson-Dwayne-The-Rock.html  
Johnson, Dwayne, and Joseph Layden. (2000). The Rock Says / M: the Most Electrifying Man in Sports-Entertainment. Regan Books. 
Beaston, Erik. (2019 Nov 17.) Ranking the Rock's Greatest WWE Moments 21 Years After 1st World Title Win. The Bleacher Report.  Retrieved April 30, 2021 from bleacherreport.com/articles/2863019-ranking-the-rocks-greatest-wwe-moments-21-years-after-1st-world-title-win