Amy Tan
May 5, 2021
Compelling..Award-Winning..Magnificent. These are some of the adjectives that can describe Amy Tan's literature works, which are prominently about Chinese mother and daughter relationships. Many say that "words are not equivalent to actions," yet Tan effectively defied this statement with her emotional and heartfelt stories.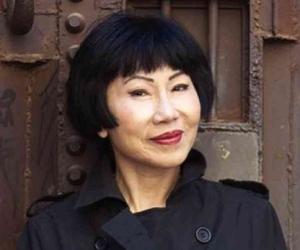 She has written a multitude of books, such as The Hundred Secret Senses, The Bonesetter's Daughter, Saving Fish From Drowning, The Joy Luck Club, and The Kitchen God's Wife. Her novel The Joy Luck Club was the beginning of her writing career. The storylines all touch on the delicate and fragile intertwinedness of her Asian and American cultures. Tan initially got involved with authorship because she wanted to share her life experiences.
Growing up, Amy Tan had a tedious and complex relationship with her mother. They often quarreled when she was a child, but Tan allowed their relationship to mend as she got older. She made this decision after her mother suffered from an illness, in which Tan traveled with her to her home country of China, after she recuperated. This event in Tan's life inspired her to write The Joy Luck Club, whose plot consisted of the interactions between various Chinese mothers and their Chinese-American daughters, and acknowledged the differences between Chinese and American cultures. Her other books have similar themes, as they all incorporate Asian characters and customs.
Amy Tan's books have been highly favored, receiving positively substantial reviews, obtaining awards, and reaching the bestseller list of The New York Times. They have also been translated into 35 languages to serve the purpose of teaching diverse people about the Asian culture. This was a moving choice because people from all over the world were able to read her influential messages.
She has also spread awareness about Lyme Disease, which she contracted relentlessly enough to where it required medication. She did this by releasing an autobiography called The Opposite of Fate: A Book of Musings in 2003. It told the story of her experience with Lyme Disease, and was published to open up about what it was (a chronic infection that is caused from a tick bite), and how it affected her health, both physically and mentally. Tan actively engages herself in advocacy of patients who also agonize from the disease.
"I think that's why I'm a storyteller. I take all these disparate events and connect them. I have to make them seem inevitable and yet surprising and plausible. That's what I think life is like too. I have the luxury to do exactly what it is we all need time to do… think about the mystery of life." -Amy Tan
---
References
Amy Tan. (2007). Retrieved April 12, 2021, from https://myhero.com/Amy_Tan_whitworth_07
Britannica, T. Editors of Encyclopedia (2021, February 15). Amy Tan. Encyclopedia Britannica. https://www.britannica.com/biography/Amy-Tan
Amy Tan. (2021, February 10). Retrieved April 12, 2021, from https://achievement.org/achiever/amy-tan/