Yuri Kochiyama
May 14, 2021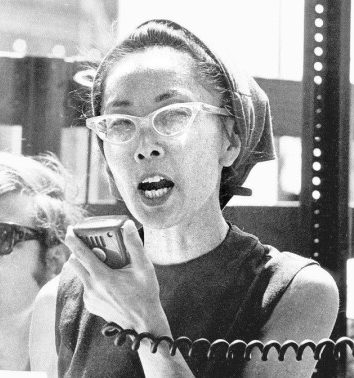 Yuri Kochiyama was a lifelong activist, fighting for social justice and human rights from the beginning of the 1960's to 2014.
Blogs.brown.edu states that Kochiyama started her life in San Pedro, California as "a small-town gal living comfortably, and totally apolitical." That was only until the bombing of Pearl Harbor in 1942 and President Rossevelt ordered the US military to put Kochiyama and 120,000 other Japanese/Japanese Americans in incarceration camps during World War 2. 
Blogs.brown.edu described this event as "the beginning of her political awakening." After being in the incarceration camp for two years, zinnedproject.org states she moved to New York and married Bill Kochiyama, a veteran of the all-Japanese American 442nd combat unit of the US Army. 
When Kochiyama decided she was going to speak up about governmental abuses, she started attending the Asian American, Black, and Third World movements for civil and human rights, ethnic studies, and against the war in Vietnam. According to zinnedproject.org, she became a founder of "Asian Americans for Action," and then decided to build a more political Asian American movement that would link itself to the struggle for Black liberation. 
In 1963, Kochiyama had a brief friendship with Malcom X, which helped radicalize her activism. She began focusing her work on black nationalism and was with Malcolm X during his final moments. According to npr.org, "She was not your typical Japanese-American person, especially a nisei," or a second-generation Japanese-American, said Tim Toyama, Kochiyama's second cousin, who wrote a one-act play about her relationship with Malcolm X.
Throughout Kochiyama's life she showed her dedication and her persistence during her times as an activist and even afterwards, she was still fighting. When someone asked her what kind of legacy she wanted to leave behind, she said, "Fight against racism and polarization, learn from each others' struggle."
One of her last pieces of advice before her death was, "Build bridges, not walls.
---
References
Brown, University. (2016, September). Asian American Activism: The Continuing Struggle. Blogsbrownedu. https://blogs.brown.edu/ethn-1890v-s01-fall-2016/historical-figures-and-organizations/yuri-kochiyama/ 
Rethinking School and Teaching for Change. (2008). Zinn Education Project. Zinnedprojectorg. https://www.zinnedproject.org/news/tdih/yuri-kochiyama-was-born/ 
Wang, Hansi. (2014, June 2nd). Yuri Kochiyama, Activist And Former World War II Internee, Dies At 93. NPR. https://www.npr.org/sections/codeswitch/2014/06/02/318072652/japanese-american-activist-and-malcolm-x-ally-dies-at-93
Yardley, William. (2014 June 4th). Yuri Kochiyama, Rights Activist Who Befriended Malcolm X, Dies at 93. NY Times. https://www.nytimes.com/2014/06/05/us/yuri-kochiyama-civil-rights-activist-dies-at-93.html