Florence Nightingale
April 15, 2021
The Lady with the Lamp, Florence Nightingale, was a British nurse born in 1820 during the Crimean War. Her efforts for reforming healthcare greatly influenced the quality of care for the future. Florence was born in Italy to British merchants. Her family being merchants, they took pride in socializing with people of prominent status. Though her family was social, Florence was awkward in social situations. Florence was strong willed and occasionally fought with her mother, but like all daughters, she still wanted to make her mother proud.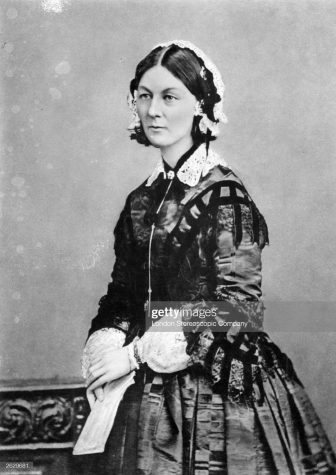 From a young age, Florence was active in philanthropy, tending to the ill and poor. Her parents were so unhappy about her ambitions, they forbade her from continuing nursing. When she was 17, she rejected a proposal from Richard Monckton Milnes (who her parents approved of) because she did not think he would satisfy her morals.
In the early 1850's, Florence returned to London where she took up a nursing job. She even made it a goal to improve hygiene practices, which lowered the death rates at the hospital she worked at. In 1853, the Crimean War broke out between Russian and the British Empire. By 1854, no less than 18,000 soldiers had been submitted to hospitals. Florence was asked to gather some nurses to tend to the soldiers, so she gathered thirty-four nurses and sailed to Crimea. Florence was not prepared for what she saw at Scutari, but got to work right away. The conditions of the hospital were nightmarish. She remained in Scutari for a year and a half. 
Afterwards, Florence had used her money to further her nursing and hygienic cause. In 1860, she opened her own nursing school: The Nightingale Training School for Nurses. Even wealthy women wanted to apply to her to school, eager to follow in her footsteps. Because of Florence, nursing was no longer looked down upon by the upper class, but was seen as an honorable vocation. 
---
References 
History.com Editors. (2009, November 09). Florence Nightingale. Retrieved April 01, 2021, from https://www.history.com/topics/womens-history/florence-nightingale-1