Ruth Bader Ginsburg
March 31, 2021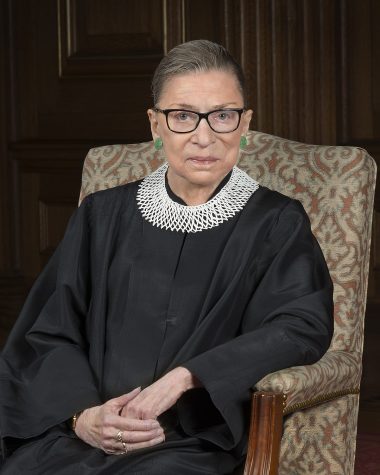 Not many people have the capability and will power to take a place of power as a U.S. Supreme Court Justice, let alone have the courage to be under the spotlight and stand up for many things that may be against other people's beliefs and customs. 
Growing up in a low-income family, Ruth prevailed through economic hardships and graduated from Cornell University in 1954, where she married her husband Martin D. Ginsburg who was also a student studying in the law field. After her achievement of graduating, she then pursued more studies at Harvard University.
Out of 500 students who attended law school in Harvard, only eight of the 500 students were female. Due to that circumstance, she went through many struggles in this male-dominated field of professions.
Many of the men, who in fact oppressed their fellow female peers, have even told them that they weren't as qualified in law as men were.
What once brought her down had now encouraged her to work harder. Ginsburg graduated first in her class in 1959, after transferring to Columbia Law School.
Due to the experiences of having a predominantly male population in class, Ginsburg went on to fighting for women's rights, then became the second female supreme court justice, after Sandra Day O'Connor!
---
References
History.com Editors. (n.d.) Ruth Bader Ginsburg. History.com, A&E Television Networks. Retrieved 9 Nov.  from www.history.com/topics/womens-history/ruth-bader-ginsburg. 
Oyez. (n.d.) Ruth Bader Ginsburg., Retrieved 22 Mar from  www.oyez.org/justices/ruth_bader_ginsburg. 
Pullman, Sandra. (n.d.) Tribute: The Legacy of Ruth Bader Ginsburg and WRP Staff. American Civil Liberties Union. Retrieved 22 Mar from www.aclu.org/other/tribute-legacy-ruth-bader-ginsburg-and-wrp-staff.