Eleanor Roosevelt
March 29, 2021
Some could argue that Eleanor Roosevelt was most likely the most impactful First Lady in history. A dedicated activist, she advocated for human rights, women's rights, and she also fought for children's rights. 
In her childhood, she suffered the deaths of both her parents and one of her brothers at a very young age. When she turned 15, she attended Allenswood Boarding Academy abroad in London. Upon her return to the United States, she married her 5th cousin Franklin Roosevelt, and she convinced FDR to stay in office after a paralytic illness struck him that disabled him in the legs.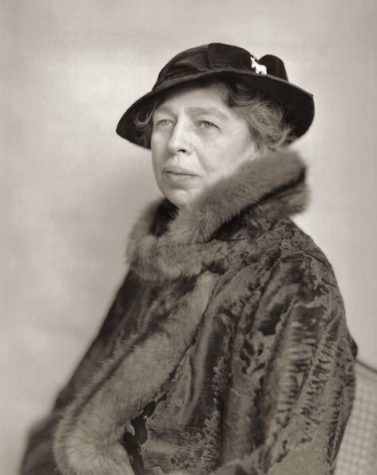 Eleanor drastically changed the role of the First Lady. She sometimes publicly disagreed with her husband FDR's policies. She fought for the rights of women in the workplace, and for the civil rights of African American's, Asian American's, and World War 2 refugees. She improved the situation for many of these people in America.
When her husband died in 1945, she was still politically involved for the remaining 17 years of her life. She advocated the United States to join with the United Nations and became their first delegate. She served as the first chair of the UN Commission on Human Rights and oversaw the drafting of the Universal Declaration of Human Rights. She later assisted John F. Kennedy as he administered the Presidential Commission on the Status of Women. 
Eleanor Roosevelt is still considered one of the top women's rights advocates in history, and her past work continues to impact people today.
"People grow through experience if they meet life honestly and courageously. This is how character is built.." – Eleanor Roosevelt
---
References
Sanchez, R. (2021, March 01). Eleanor Roosevelt. Wikipedia 
Retrieved March 08, 2021, from https://en.wikipedia.org/wiki/Eleanor_Roosevelt 
Warner, A. (2021, March 04). What famous women in history were achieving when you were born. Retrieved March 08, 2021, from https://www.marieclaire.com/culture/g19444830/famous-women-in-history/?slide=2