Women's History Month: Halsey
March 26, 2021
Women have had a substantial impact in the world of arts, especially music. Female stories and perspectives on the world assist in breaking down gender barriers, which allows those who were told they had no voice to finally be able to speak up.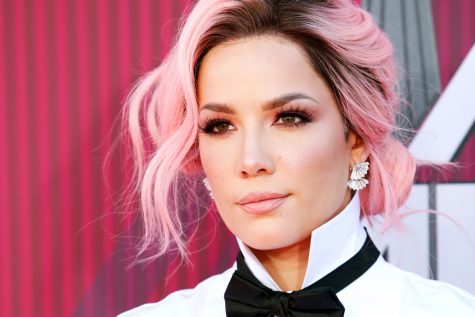 One woman who has been able to achieve this feat is the singer-songwriter Ashley Nicolette Frangipane, famously known as Halsey. Halsey was born on September 29, 1994, in Edison, New Jersey. She comes from a mixed background as her father, Chris Frangipane, is of African-American and Irish descent, and her mother, Nicole Frangipane, is of Italian and Hungarian descent. 
Halsey had her big break after posting a song titled "Ghost" on SoundCloud that garnered a lot of attention and earned her a record deal with a record label named Astralwerks. From there, Halsey recorded many albums and EP's, her first one being Badlands (2015), which debuted at number 2 on the Billboard 200 albums chart in the United States and was certified platinum. Halsey then went on to record her album Hopeless Fountain Kingdom (2017), and her most recently released album being Manic (2019).
 In each album, she addresses issues and important topics she finds relevant, such as her sexuality, mental illness, toxic relationships, misogyny, and global warming, which has helped in her garnering such a prominent fanbase. Her songs have been able to connect to her audience so much, resulting in her being dubbed the "voice of her generation."
Watch Halsey's music video for a song called "Graveyard" off of the Manic album
Five Fun Facts
Halsey is an avid activist for suicide prevention, is a self-proclaimed feminist, and advocates for racial injustice and the LGBTQ+ community. Halsey is constantly attending marches, protests, and events that help push these messages and agendas.

Halsey is known to wear more provocative clothes that show off her skin in order to showcase her tattoos.

Halsey revealed she was pregnant on her Instagram account on January 27th of 2021.

Halsey's latest album

Manic

reached 2 billion streams making it the 4th most streamed album on Spotify.

Halsey's stage name is actually an anagram for her first name (Ashley) and is also a reference to the Halsey Street station of a New York subway where she spent the majority of her teenage years.
---
References
Morris, A. (2018, June 25). Inside Halsey's Troubled Past, Chaotic Present.  RollingStone. Retrieved March 07, 2021, from https://www.rollingstone.com/music/music-features/inside-halseys-troubled-past-chaotic-present-97968/
Harmata November 11, C. (2020, November 11). Halsey explains why she changed her NAME: 'I felt That ASHLEY didn't deserve to BE FAMOUS'. People. Retrieved March 07, 2021, from https://people.com/music/halsey-explains-stage-name-changed-from-ashley/#:~:text=%22%5BChanging%20my%20name%5D%20gave,socioeconomic%20situation%2C%22%20she%20added.
Alexis, D. (2017, August 17). Singer Halsey says she's a 'BLACK WOMAN'. Retrieved March 07, 2021, from https://www.bet.com/music/2017/08/17/halsey-black-woman-playboy-magazine-internet-reactions.html?cid=facebook
Levy, J. (2019, October 02). Grammy preview 2020: Halsey on why she's proud to be a 'nightmare'. Retrieved March 07, 2021, from https://www.rollingstone.com/music/music-features/halsey-interview-nightmare-womens-march-first-grammys-890546/