Elizabeth Schuyler Hamilton
March 19, 2021
When Elizabeth Schuyler Hamilton met Alexander Hamilton in Morristown, New Jersey in 1780, history was changed forever.
Elizabeth Schuyler wasn't just the wife of a founding father, but the proud mother of eight kids and mother figure to hundreds of orphaned children. Her father Phillip was a general for the revolutionary war and her mother a daughter of a wealthy family. However, money didn't matter to Elizabeth, so she left it behind to be with Alexander Hamilton.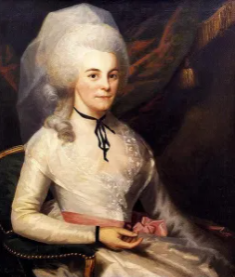 According to Smithsonianmag.com and Historythings.com, Eliza helped Hamilton with the nation's financial system and political essay drafts, in addition to raising their large family.
The Hamiltons' marriage had many problems. First they had financial issues, and then Alexander Hamilton engaged in an affair. After details about the affair were leaked, the family's reputation plummeted, but Eliza defended Hamilton after forgiving him.
After the death of her oldest son, husband, and father, she started helping charities and created an orphanage. She cared for and educated several hundred children with other women.
Elizabeth Hamilton was a wonderful and amazing woman who lived until the age of 97. She lived from 1757-1854 and died in Washington D.C. Producer Lin-Manuel Miranda made sure the Hamiltons' story would be remembered by writing the hit Broadway Musical: Hamilton.
---
References
History Things (2019, September 21). Elizabeth Schuyler Hamilton: Alexander Hamilton's Beloved Wife. Historythings.com.  Retrieved March 5, 2021 from https://historythings.com/elizabeth-schuyler-hamilton-the-beloved-wife-of-hamilton/#:~:text=In%20Morristown%2C%20New%20Jersey%20in,but%20that%20had%20been%20it
Smithsonian (2016, February 25). Why Elizabeth Hamilton is Deserving of a Musical of Her Own. Smithsonianmag.com. Retrieved March 5, 2021 from https://www.smithsonianmag.com/history/why-elizabeth-hamilton-deserving-musical-her-own-180958214/
Social Welfare History Project (2020, October 5). Hamilton, Elizabeth Schuyler. Socialwelfare.library.vcu.edu. Retrieved March 5, 2021 from https://socialwelfare.library.vcu.edu/eras/antebellum/hamilton-elizabeth-schuyler/ 
Lin-Manuel, Miranda. (2015, January 20). Hamilton the Musical.